GRAND ISLE, Louisiana, May 29, (AFP) -Engineers tried Saturday to plug an oil gush spewing crude into the Gulf of Mexico after US President Barack Obama visited the disaster area and vowed never to abandon those imperiled by it.
As BP pleaded for patience to allow time for its risky and complex "top kill" to work and plug the massive leak, Obama pledged "to continue to do whatever it takes to help Americans whose livelihoods have been upended by the spill."The US president, clad in hiking boots and with his sleeves rolled up, ordered the number of workers feverishly trying to contain and clean up the spill along the southern US coastline to be tripled.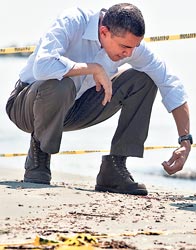 US President Barack Obama looks at tar balls as he tours the beach at Port Fourchon Beach, Louisiana, on May 28. AFP
He toured an oil-slick blighted Louisiana beach, picking up tar balls to examine them, as he outlined his administration's "historic response" to the disaster which has spewed millions of gallons of oil into the Gulf of Mexico.
His second trip to the region since an April 20 explosion tore through the Deepwater Horizon rig, 80 kilometers ( 50 miles) off shore, came as experts and residents hold their breath, hoping BP can stop the oil flowing from a fractured pipe.
Government scientists estimate some 12,000 to 19,000 barrels of crude a day have been gushing into the Gulf since the rig sank two days after the blast which killed 11 workers.
"I think the key element here is to exercise patience," said BP's chief operating officer Doug Suttles, adding the operation would last another 24 to 48 hours.
The British energy giant is using robotic submarines to pump heavy drilling fluids down the wellhead, hoping to drown the leak long enough to allow engineers to then seal it with cement.
"We'll have periods where we're pumping. We'll have periods where we're monitoring results of that pumping. We'll have periods where we actually pump in this, what we call junk," Suttles said, seeking to allay concerns over why BP had stopped the pumping several times since it began on Wednesday.
The disaster has already closed stretches of coastal fishing waters, endangering livelihoods which are also dependent on tourism, and threatening a catastrophe for Louisiana marshes, home to many rare species.