LAHORE, Pakistan, May 29, (AFP) -Gunmen wearing suicide vests stormed two Pakistani mosques belonging to a minority sect in Lahore, bringing carnage to Friday prayers and killing around 80 people.
Squads of militants burst into prayer halls firing guns, throwing grenades and taking hostages in the deadliest attack on the city of eight million, which has been increasingly hit by Taliban and Al-Qaeda-linked violence.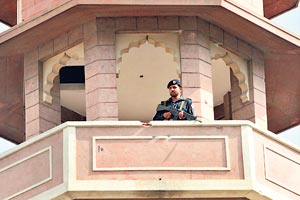 A Pakistani policeman stands guard on a minaret of the Ahmadi minority sect mosque in Lahore on May 29. AFP
Both mosques belonged to the Ahmadi community, which Pakistan has declared non-Muslim. Although the estimated minority of two million has been attacked by Sunni extremists before, the magnitude of Friday's assault was unprecedented.
The United States condemned what it called "brutal violence against innocent people". "We also condemn the targeting and violence against any religious group, in this case the Ahmadi community," State Department spokesman Philip Crowley told reporters in Washington.
EU diplomatic chief Catherine Ashton said she was "appalled". Pakistan's leading rights group said the community had received threats for more than a year and officials blamed the attack on Islamist militants, who have killed more than 3,370 people in bombings over the last three years.
"Terrorists have attacked mosques. They are firing and using grenades. They have taken people inside the mosque hostage," district civil defence official Muzhar Ahmed told AFP from the scene in the bustling Garhi Shahu neighbourhood.
The attacks sparked more than two hours of gun battles with police and commandos, as bursts of heavy gunfire rocked the neighbourhoods and rescue services raced through the streets to tend to the victims.
"The prayer leader was delivering a sermon inside the hall when I suddenly heard distant gunshots," Bilal Ahmed, a worshipper, told AFP after fleeing with his life from the mosque in Model Town.