For several years the Old Boys Association (OBA) of Zahira College has determinedly worked toward the goal of building a brand new swimming pool for the school's inconvenienced students. Now with construction firmly underway their dream is drawing ever closer to the brink of realization.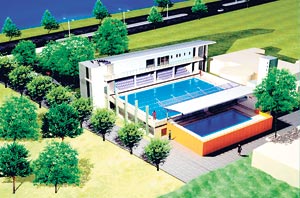 An artists vision of the completed Zahira College Swimming Pool.
Completion of the process however will require a lot more work and even more money than they have already invested. Construction work on the new swimming pool is scheduled to be mapped out over a nine month period which will be split into three stages.
The complete cost of the whole project, which includes a 25 meter pool as well as a pavilion and a car park, is estimated to be at 98 million rupees.
Jayanpathi Herath Associates, the architects behind the build, have also designed a special screen which will ensure privacy for female swimmers who will be given the pool on special demarcated days.
Alavi Mukthar, Treasurer of the OBA Executive Swimming Committee (ESC), a sub-committee of the OBA, explains that progress has been buoyed by the unreserved support of Holcim (Lanka) Chariman, Manilal Fernando. Holcim (Lanka) is a leader in the country's cement industry.
"He came for a school sports meet and then said he would support us by giving the cement we need for building the pool," Mr. Mukthar revealed. But even with this support costs for the pool are spiraling and the OBA along with the school appeals to all prospective donors to come forward and identify themselves.
The new pool is the brainchild of ESC Chairman, Mr. Jais Fahmy, who after voicing his idea for a new pool during the past six years, is now the driving force behind the project according to Mr. Mukthar.
Even with the absence of a pool, Zahira's swimmers have still managed to cover steady ground in the sport. So along with the new construction there comes an almost certain guarantee of future swimming champions emerging from the school.