MICHAEL Clarke is adamant he wants to keep the Australian Twenty20 captaincy. But he realises that to do so he must adjust his game to suit the style, perhaps by recalling the more free-spirited batting of his formative years.
As Australia's players arrived back home after their loss to England in the World Twenty20 final in the Caribbean, Clarke emerged from Customs to put a positive spin on his side's performance - an encouraging tournament let down by a poor display in the game that mattered most.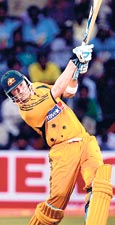 Michael Clarke
He has only a few days to wait to find out whether the Australian selectors will retain him in the Twenty20 team, as the tour squads for Tests, one-day matches and Twenty20s against Pakistan and England will be announced late next week.
There is little doubt that Clarke's teammates want him to continue in the role, glowing in their appraisal of his captaincy. For now, Clarke, too, is equally enthusiastic.
''I've loved playing with the guys, I've had a lot of support from people back at home, the people who came and watched the games in the West Indies, and family and friends, so it's been great and I'm enjoying it.''
Further ahead is a home Ashes series, and Clarke doubted England would be able to take too much from the Barbados result. He believes Australia's resilient displays at Test level in recent times will stand his side in good stead.
''I can guarantee the way we've been playing Test and one-day cricket of late, or even T20 cricket in this tournament, we're very confident.''. - AAP