The Table Tennis Association of Sri Lanka has hit the nail on the head by appointing Lalith Priyantha as Manager, and coach for the Sri Lanka team at the world championship to be held from the 26th May 2010 and also as delegate for the world congress of T.T. in Russia.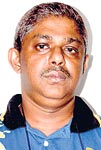 Lalith Priyantha
The Men's team will comprise of W Rohan Sirisena of The Air Force (2) Nirmala Jayasinghe of M.A.S. Holdings and (3) Hasantha Shashiranga a schoolboy of Dharmasoka Ambalangoda. The Women's team will consist of Ishara Madurangi of the Air Force, Srimali Wimalaratne also of the Air Force and Nuwani Nayodya a schoolgirl at Dharmosoka Ambalangoda.
Lalith's employers Asian Insurance Ltd have sponsored his Air Ticket to Russia and back and he is grateful to Mr. Asanga Seneviratne and Mr. Ramal Jasinghe for all the assistance received.
Lalith is bound to bring out the best of the team with his experience and expertise. The Table Tennis Association has picked on the right man to upgrade the standard of T.T. in Sri Lanka and this writer is sure that the unassuming Lalith will no doubt fulfill The expectations of the Association and the vast legion of T.T. followers in Sri Lanka.