KABUL, May 21, 2010 (AFP) - English footballer David Beckham is on his way to visit British troops serving in Afghanistan, the British military said Friday.
The 35-year-old former England skipper was expected to arrive in the southern Afghan province of Helmand late Friday, a spokesman told AFP, speaking on condition that he not be named. "Beckham is on his way to Afghanistan," he said.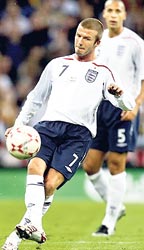 David Beckham
"He is coming to meet the troops, it's a morale boosting visit." Beckham, who is recovering from an Achilles tendon injury which destroyed his World Cup dream, would probably spend the weekend in Helmand, he said.
Beckham told reporters of his pride as he left RAF Brize Norton in the south of England. "I have nothing but admiration for these young men and women and it makes me very proud to be British.
"I've wanted to visit Afghanistan for a long time and I hope that in some small way it helps remind everyone at home what an amazing job they are doing out here in very difficult conditions. I feel very humble." He was due to arrive at Camp Bastion, where he would spend the bulk of his visit, with an expected trip to Lashkar Gah, the provincial capital where Britain has a military base that doubles as a civilian aid outpost.
"This is a long-planned morale-boosting trip for the benefit of our troops during which he will met service personnel from all the services as well as international and Afghan troops," a Ministry of Defence spokeswoman said.
Britain has around 10,000 troops in Afghanistan as part of an international force, largely fighting the Taliban in Helmand. The country has lost 285 personnel since operations began in 2001.
Beckham told the BBC on Friday he believes he will be fit to resume playing in September after suffering the injury in March when he was playing for AC Milan. He was immediately ruled out for six months.