Sri Lanka's long distance runner Indunil Herath of Walala Ratnayake Central College, Manikhinna who will represent Sri Lanka in the 1000 Metres at the Youth Olympic Games in Singapore from August 10 to 26 is far from the athlete that he is projected.
"He hails from a poor family. His parents are farmers who barely manage two square meals a day. While other athletes enjoy three full meals a day with added supplements such as fish, eggs, meat and chicken, he has frugal meals," lamented his coach 44-year-old Susantha Fernando.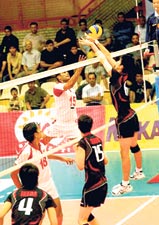 Action from the Sri Lanka vs India Volleyball game in Iran which
Sri Lanka lost after a hard fought battle.
Susantha Fernando who has been coaching the lad since he spotted his talents as an under 14 runner says that the boy has great stamina and he had trained him accordingly to take part in the 800 Metres as he had spotted a great future for him. Continuing Fernando said: "There is no doubt the lad was born with this inert talent."
Indunil Herath received his early education at Handaganawa MV, Hasalaka and joined Walala Central from the ninth standard onwards as a hostellor.
Susantha Fernando is the Assistant Director of Education Sports and Physical Education attached to the Zonal Education Office in Baddegana. Susantha himself was an athlete. He is an Old Boy of St. Anne's College Kurunegala having taken part in the 800 meters at school meets.
Then to show that his athletic prowess was no flash in the pan Susantha bagged the Gold Medal at the 2006 SAF Games held in Pakistan.
Susantha says that he receives a lot of support from the Sri Lanka Air Force as they recruit all top athletes and currently there are eleven athletes whom he has trained who had been absorbed into the Air Force.
Susantha has even been asked by the Air Force to coach them. Air Force did extremely well at the Relay Carnival last week held at the newly constructed Mahinda Rajapaksa Stadium in Manikhinna. Susantha has produced a string of athletes who have done well at the Asian level. They are Manoj Pushpakumara, Janaka Weerasinghe and D.A. Inoka.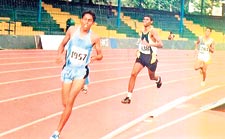 Indunil Herath takes the lead at a local meet.
Walala Ratnayake Central is a school in the Kandy District, ten kilometers from Kandy Town itself. They have been producing a lot of athletes and most of them, including Indunil Herath, will be taking part in the John Tarbat Schools Athletic Championships to be held at the Sugathadasa Stadium in Colombo on June 24, 25 and 26.
Indunil Herath proved that he had all the qualities of a middle distance runner when he bagged the Bronze at the Youth Asian Championships in Singapore last year.
Susantha Fernando says with pride that Walala Central, Menikhinna has set up 44 records at All Island Schools and Relay Championships during the last ten years and has accounted for 48 records at Junior Athletic Nationals too.
Meanwhile the controversy surrounding badminton players Dilshan Kariyawasam and Shehani Lekha is expected to be sorted out soon as the Director of Sports is expected to arrive at the decision as to who should represent the island at the YOG.
According to the World Badminton Federation web site Dilshan Kariyawasam is ranked fourth and has qualified to participate in the 2010 Singapore Youth Olympic Games.
Volleyball out
Sri Lanka's chances of sending a volleyball team for the Youth Asian Games in Singapore crashed when the Sri Lanka team currently taking part in the Asian Games Qualifier in Iran lost a hard fought encounter to India by three sets to one in a Super Eight round match.
According to reports reaching Sri Lanka from Iran, Sri Lanka skipper Deepthi Romesh has been selected as one of the best players in the competition. Earlier Sri Lanka beat Australia and qualified to be in the Super Eight in this contest.
The Indian team is ranked very high in the contest and taking a set off them had been a great achievement by the Lankan lads.