The Kidney Transplant Support Foundation (KTSF) of Sri Lanka established by Ajith F. Perera was the winner of the first award of the International Federation of Kidney Foundations (IFKF) to honour its Founder Prof. Joel D. Kopple of the United States of America, at its 11th meeting held in Kuala Lumpur, Malaysia recently.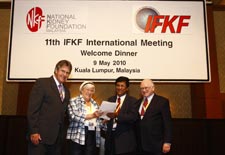 From left: Prof. Miguel Reilla, IFKF President & Council Member International Society of Nephrologists, Marianne Vannegoor, Member of the Jury which selected the first award recipient, Ajit F. Perera, Chairman, Kidney Transplant Support Foundation and Prof. Joel D. Kopple, Founder, IFKF
IFKF is an international body comprising 61 federations spread across 44 countries with eminent personalities in the kidney world, not only social workers but also consultant nephrologists and surgeons being members. The KTSF of Sri Lanka was presented the award for "their innovative development of a critically needed National Organ Donor Programme in Sri Lanka".
During the short span of one year that the National Organ Donor Programme has been in existence, it has been directly responsible for a few cadaveric transplants. Nine live donors on its register are being evaluated for transplant while more than 1,000 wishing to donate their kidneys after death are also on it.
On his return from Malaysia with the award, KTSF Chairman Ajith F. Perera said the foundation had exhausted the little funding it got from the World Bank grant given through the Information and Communication Technology Agency of Sri Lanka (ICTA).
"If we don't get anymore funding, the KTSF will face a sad plight, having no option but to wind down operations," he stressed, appealing for public donations.
For more information please contact Mr. Perera on Tel: +94-112-824373 / +94-115-553890/1; Fax: +94-112-824373; Mobile: +94-722-247236 or write to: 465/24, Ranasinghe Mw, Pepiliyana, Sri Lanka.