It is a warm Friday morning, April 30 when we reach the Rohana Special School in Matara just in time for their Avurudu festival. It is a busy scene that greets us.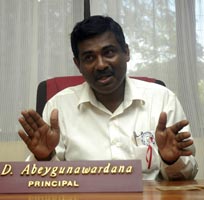 Principal Abeygunawardana
Among the invitees is a special group - children from Vavuniya, from the Organisation for Rehabilitation of the Handicapped or ORHAN.
The two groups have been brought together by an initiative by the United Nations Development Programme's (UNDP) Communities for Peace Project where in 2006 they initiated a 'sports for peace' project. This project funded by the Government of Australia took place in 11 districts.
"We wanted to use sports as a tool to link youth in different parts of the country," says Project Manager, Communities for Peace, Ahila Thillainathan. It was through this project that the Twinning Schools programme was born in 2008 focusing on the North, East, North Central provinces as well as districts of Hambantota and Matara.
"Our emphasis was on communities with the focus being on livelihood development as well," Ms. Thillainathan says, adding, "Priority was given to special needs in the three districts of Vavuniya, Matara and Ampara."
In September 2009, ORHAN invited the students of Rohana Special School to Vavuniya for a sports festival. This event was the reciprocal visit, the children from ORHAN in Vavuniya, visiting Matara during the Avurudu season.
"Our main objective is to display their talents and skills in sports," says President, ORHAN, V. Subramaniam. It is through such events that the public will be able to see what these children are capable of, he feels.
"Differently-abled children have certain restrictions and that is why we must assist them in their personal development," says N. D. Abeygunawardana, Principal, Rohana Special School. He says for about 30 years, the war hindered development in this area, but with peace prevailing now, there is a chance for this to change.
"I have no disability but anything can happen to me, tomorrow and on that day if I get only sympathy but no help that would be of little point, because what is necessary is assistance," Mr. Abeygunawardana says.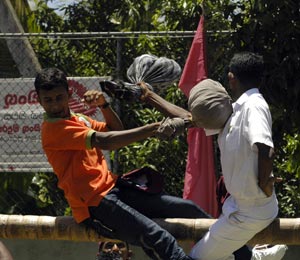 Barriers fall away in the face of fun and games.
The children who come to Rohana Special School have been abandoned by their families and their societies because of their disability. Therefore the school works hard to help them.
S. Kumara (16) the Head Prefect of the school hopes to become an engineer someday. "I like maths and sports. I will be sitting for my O' Levels this year and I want to do well in my studies," he says enthusiastically. Kumar Jenson (18), a student at ORHAN, says he is happy at school as he gets the opportunity to draw and paint.
"Every year we conduct various programmes and this year we decided to help children who are mentally and physically handicapped so that they would be able to lead a normal life when they enter society," says Mr. Abeygunawardana. He said their hard work at the school seems to have paid off as they were awarded a National Productivity Award by the Ministry of Labour and Manpower's National Productivity Secretariat. "It's not me but my children who earned this award," he says, adding, "As a team we can do anything."
Gunaratna Magamamudali's daughter eleven year-old Gihani is a slow-learner. "I can actually see an improvement in her since she came to this school at the age of seven," says Gunaratna adding that he feels that being able to be with other children has played a big part in her development.
No doubt, the teachers too have a huge influence on their progress. Ms. H. G. S. Anojini a teacher at Rohan Special School is proud that children from the school have entered university. "When they join the school some children don't even know sign language but they learn fast and are able to do well in school," Anojini says adding that there are children who compete in sports with children from national schools and win. The children follow the normal national school syllabus.
Krishnamoorthy Santhi who teaches yoga, Home Science and Tamil at ORHAN," says she sees the children improving a great deal with the education and attention they receive. "They are given basic training and then they are enrolled into various schools in Vavuniya," she says, adding, "Once they get to school they are already integrated into society."