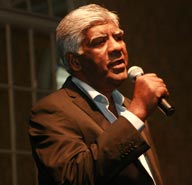 Local Jim Reeves Ranjit Vethakan
The Hilton ballroom was set for romance. A single red rose at the centre of each table draped in black and a Broadway backdrop in the darkened hall dispelled any thoughts of the mid afternoon heat as a singer from the past returned to the songs he loved best.
They were the old familiar tunes, that the ladies present, members of the Lady Hilton Club and a few stray male invitees had no doubt, grown up on.
So they sang and swayed as the local Jim Reeves, as Ranjit Vethakan was popularly known before he left Lanka's shores crooned his way through a repertoire of Gentleman Jim, Engelbert Humperdinck, Matt Monroe and other sentimental balladeers.
Except for a guest appearance at the Country Roads show, Vethakan has hardly been on a local stage for many years and was no doubt, touched when three ladies marched up to present him with a rose. Still others clapped and danced as the mood took them as he went down memory lane, before the sumptuous afternoon tea beckoned and it was time to go.