Walter S. Scheib III was Hilary Clinton's answer to Jacqueline Kennedy. Though J.F.K's glamorous widow had long since left the White House, she had set the standard for fine dining in the nation's home – and it was European. Mrs. Clinton's mandate for her new chef was a challenge – she wanted to see contemporary American cuisine celebrated in her kitchen.
Over the next 11 years, Walter would do exactly as he was commanded and in exchange he would have the honour of serving not one but two American Presidents and their many distinguished guests, a list that included the Emperor and Empress of Japan, Mother Theresa, Tony Blair and Nelson Mandela.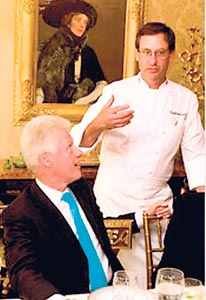 With President Clinton at the White House
Today, Chef Scheib's tales are even more popular than his ginger-poached lobster with red curried potato soup (Chelsea Clinton's favourite). Having founded his company The American Chef (www.theamericanchef.com) he travels the world sharing his memories and serving the dishes he once cooked for the first family. His narrative is that of a privileged insider, and Scheib will be the first to admit the position came at the cost of his personal freedom, time with his family and even his menus.
The executive chef during the Reagan years was sacked when he refused to lower himself to cooking a hamburger, and it's a mistake that Chef Scheib has taken pains to avoid. "When you work at the White House, you leave your ego and your politics outside," he says, "it's not Walter Scheib's restaurant, it's George W. Bush's home."
But before that, it was Bill and Hilary Clinton's and it is to the former first lady now Secretary of State that Scheib owes a debt of gratitude. In 1994 she elevated him from his position at Greenbriar Resort to Executive Chef at the White House. The move didn't come with a better kitchen; on the contrary it was so small that Scheib could only prepare a state dinner after he had arranged for the military to provide them with multiple mobile kitchens.
But it did bring him into the immediate environs of the first family. Schieb met Chelsea Clinton as a 12-year-old; at that time there were only two things on her menu: grilled chicken with broccoli and pasta and macaroni and cheese. Though she gradually developed a more adventurous palate, by her senior year she opted to become a vegan... "and we spent a lot of time learning a whole new set of recipes," says Scheib ruefully. "We looked a lot in this part of the world. Chelsea became very enamoured with all these very Asian flavours."
Just before she left for college, Chelsea spent six weeks with Chef Scheib learning how to cook. Her parents wanted her to be able to take care of herself. "We gave her her own chef's coat that said Chelsea Clinton. And after we were done, we had the calligraphers create a certificate for her – she became the one and only graduate of the Walter Scheib White House Cooking School." Walter's memories of Hilary Clinton are as informal – he's seen her in hair curlers, dark circles coated in cream – and her menu often had to be as limited as her daughters. To hear Scheib tell it, the first lady was always on a diet.
"They're rock stars like anybody else," he says, explaining that they'd struggle to lose weight before a tour, put it all back on over the course of several spectacular banquets, and come home determined to lose it all again. Whenever either Mrs. Clinton or Mrs. Bush approached him with a new diet, Chef Scheib would have the medical officer vet it, and then once it was implemented, put himself on it as well. 'I'm not losing any weight on this diet you've put me on, Walter,' he remembers Mrs. Clinton complaining. His response? "it's your book...and I've lost nine pounds. She laughed and responded 'perhaps we ought to take the apple pie out of the refrigerator.'"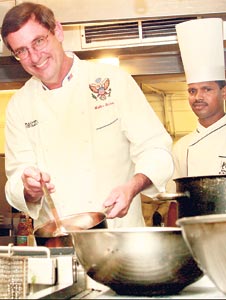 Walter Scheib: Turning out dishes at the Mount Lavinia Hotel recently.
"When you're working for the first family and you're cooking for them you get to know them not as the person on the nightly news but as people. You get to see them offstage, so to speak," says Scheib. When former President Clinton decided he wanted to watch a basketball match (he was rooting for his favourite University of Arkansas team to make it through the semi-finals) he discovered his schedulers had neglected to provide him with company.
"The butler comes down and says the president wants someone to watch the game with him, and so we go, and there in front of a 100 inch T.V is the President eating his nachos. There's a butler, a cook, an electrician, a plumber, a full staff basically, all in our uniforms, watching the game with him." The game didn't go well for Arkansas – and Scheib describes an irate Clinton waving his arms about and jumping up and down.
It's a theme that finds its way into many of Scheib's reminiscences – the faces of people behind the power. Yes, he's always scrupulous about what he says, even when discussing Laura Bush and her request that he resign during Bush's second term. All went well initially, and Scheib spent the first four years of the Bush term turning out bacon, tomato, lettuce (BLT) sandwiches for the president's lunches. He describes the former President as a "pretty funny guy," saying he would come "bouncing in" after his daily run and "if you had a peanut butter jelly sandwich or a BLT or a hamburger – you had everything he wanted right there." For the Bush twins, who were already young women, Scheib catered several spectacular college parties.
Looking back at the children who have called the White House 'home,' Scheib says "the White House is a museum, on top of everything else, so it's very stuffy and staid. The kids make the old lady dance – their spirit enlivened the house."
As for his stint with the Bush family, technically, Scheib shouldn't have lasted as long. To Laura Bush he would always be Hilary's Chef. But 9/11 happened, a mere week after the Bush family hosted their first state dinner, and everything changed. The event brought home to Chef Scheib his own vulnerability. Kitchen staff preparing lemon zest in smaller rooms remained unaware of the evacuation that day, and actually walked out several hours later to find themselves alone in the building.
After his seven years with the Clintons, the four with the W. Bushes would be somewhat grimmer. "9/11 changed everything, worldwide in so many ways, and in a small way it changed entertaining at the White House." "Those were amazing times," says Scheib, "under the Clintons, we welcomed in the new millennium, the economy was booming, and country was relatively at peace, but it was rife with personal scandals. Under Bush, we had 9/11 and a war - you get to see these historic occurrences from a very personal standpoint." Reflectively he adds: "you watch them [the presidents] age, as the pressure changes them over the years. Our job – to give them this 'little island of sanity,' where they could be father and husband, where for five minutes they could be normal."
When George W. Bush was elected to a second term, Laura turned over her team –and Chef Scheib was one of the casualties. Cristeta Comerford replaced him in his kitchen, graduating from the first female assistant chef in the White House to its first female executive chef. Much of his team remains under her in what is now the Obamas' kitchen.
"This for me is a major validation – that my successor is my protégé. This is why when people ask me 'do you miss it?' I say 'I'm still there'." But he was also here – and cooked for two events last week at the Mount Lavinia Hotel where he wooed his audience with tales of the White House. Having overseen the first family's kitchen for over a decade, Scheib seems to consider his biggest accomplishment his successful stints with both the Clinton and the Bush families – "they were so far apart on both the political and personal levels, but we made them both happy," he says proudly.