Walking around in Dandenong Market, the day after setting foot in Melbourne, I saw an intriguing sight -presumably a father explaining to his two daughters the three different types of eggplant. "Duwe, Mewwath Vambatu, Mewwath Vambatu and Mewwath Vambatu," he said. I knew then I was somewhat on familiar ground.
Thereafter I met many a Sri Lankan who had sought economic refuge in this first world. They all look more confident, better fed but most of all they loved the things back home.
So much so that would you believe it if I, a man who has lived all his life in Sri Lanka declares that the best hoppers that I ate in my life happened to be in that far away land of Australia?
This happened when I was invited out one evening by my friend – former Sri Lankan journalist Trevine Rodrigo. "We are hoping to take you out to a nice little restaurant run by a Sri Lankan couple – Chavo and Yolande," he told me.While we were on our beverages prior to the buffet, the owner came up and asked: "Would you like to have some hoppers? They are on the house!"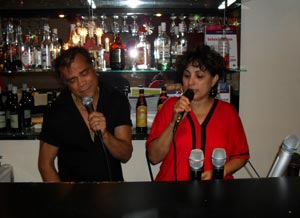 Chavo and Yolande: Adding more flavour to their restaurant with their singing prowess
We accepted the offer, and I quipped, "I have to come halfway around the world to eat hoppers?" Once Chavo was gone my friend asked me, "Do you know who that is? He is Lorensz de Kauwe who won the Asian Championship silver medal for Sri Lanka way back in 1973."
Then I remembered this nimble-footed Southpaw who had been a favourite of mine. Upon his return with renewed respect I asked him first about his travails at Bangkok at the 6th Asian Championships and then how this transformation from being a belligerent puncher to a culinary artiste bent on pleasing the gastronomical fancies of people had come about.
Hailing from St. Mary's College, Dehiwela, a leading nursery for boxing in Sri Lanka at that time, Lorensz followed his brothers into the ring and soon became the title holder of Sri Lanka in the Light Weight class. He was selected to fly to Bangkok to take part in the 6th Asian Championships. At that time when a foreign trip was a rare commodity, this was a huge achievement.
It all came back to Chavo. "In the first round I had to fight a Korean , Chi Bok Kim whom I beat easily. Then in the semi-final it was a Japanese boxer, Akada Hiroyuki. I was through to meet homegrown Pragnon Lakasit of Thailand in the final."
At this point Chavo excused himself and joined his wife Yolande at the bar to entertain the crowd with a song off his well equipped Karaoke set-up. Meanwhile the hoppers had got to me – they were really fantastic.
Returning to our table Chavo continued, "I fought the final well. I thought I threw more punches, but with that partisan crowed I knew that I was in the wrong end of the ring. Finally it was a split decision, but I had lost the final."
Then Chavo as he is known popularly in Melbourne explained how he got into culinary business. "In Sri Lanka after leaving school I joined the Air Force. However my father was a well known caterer and from our young days we knew what that business was all about. When I migrated to Australia, I always wanted to own my little restaurant so I worked towards it and managed to build this up a few years ago."
Listening to the couple singing I asked them how the musical part came along. Chavo explained that Yolande had won several talent contests back in Sri Lanka and was keen on setting up a karaoke system at the restaurant. He soon realized that people appreciated the music and this became a regular feature in their restaurant with people coming especially to hear them singing in the evening.
As the evening drew to a close, I was full. It was only then that I realized that I had feasted only on hoppers, giving the buffet a miss!