A special team of workers is entrusted with the painstaking task of collecting different varieties of indigenous herbs from forests around the country while another engages in washing, drying and piling them in storerooms at the centre.
Elsewhere in the centre, another group is in the process of extracting various types of oils such as margosa, castor, gingelly and meethel from seeds. These are mixed with the herbs in the process of preparing the medicine. The scene then shifts to the continuous boiling of over 280 herbs in huge cauldrons for a period of four and half months.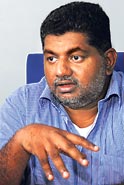 Dr. Vithanage
On a visit to the Sethsuwa Ayurveda Hospital at Vihara Mawatha, Batalanda Road, Makola, the Sunday Times was able to witness the making of the Sethsuwa Pranajeewa herbal oil according to a 200-year-old secret recipe.
The traditional Sethsuwa Pranajeewa oil was discovered by Ven. Waga Gnanaloka Thera, a descendent of a family of indigenous doctors who used it to cure his patients' ailments. The recipe, it is believed, was obtained from an ola leaf inscription passed down from generations.
A large number of people, from different walks of life, spanning politicians and lawyers to humble rural folk, have been visiting this Ayurveda centre from the time it was established about seven years ago.
They come seeking medical treatment for illnesses such as high cholesterol, diabetes, hypertension, cancer, strokes, tumours, heart ailments, skin diseases and various other afflictions.
Patients come to this hospital, which is open from Wednesday to Friday, from all corners of the island.
S.D. Jayawathie, 57, had travelled all the way from Bandarawela to get medication. "I was suffering from a terrible back pain for about five years and last year I was in hospital for three months. I couldn't walk or do any housework then. Even to keep standing for a while was difficult. In January this year, my brother brought me to Sethsuwa for treatment and I can feel there is a vast improvement," she said.
Similarly, M. Bandumatie, a patient who had come to Sethsuwa for the first time from Moneragala said that a number of people from her village who received treatment at this hospital had been cured so she too had decided to make the journey here. She had tried various other treatments for her asthma condition but had had little relief.
Dr. Sujeewa Vithanage, who is in charge of the hospital, personally attends to hundreds of patients who come seeking relief. Ven. Gnanaloka Thero was his guru and Dr. Vithanage says he is the only physician who is aware of the secret recipe of the Pranajeewa oil today. Dr. Vithanage, a BAMS (Bachelor of Ayurvedic Medicine and Surgery) degree holder of the Colombo University has been awarded the UN Friendship Organisation Jeewanashoori Award.
Long process: on the boil for 4 1/2 months.
Most often patients who come to the hospital are treated using the Pranajeewa oil while other medicines will be prescribed after diagnosing the patients.
He warns that bogus Pranajeewa oil varieties are in the market and stresses that Sethsuwa Pranajeewa oil is only dispensed at the Sethsuwa hospital in Batalanda and its channelling centre at Gregory's Road Colombo.
However, from next month, it will be available at Cargills' pharmacies island wide. "Pranajeewa oil is popular for its anti cancer-effects. It is for both oral intake as well as for external application. This oil has the approval of the US Food and Drug Authority and it is sent as a dietary supplement to the US and UK. The clinical and laboratory tests proved that it doesn't contain any harmful ingredients, preservatives or additives," he said.
Emphasizing that the hospital is not a profit oriented organization, he said he treats children and disabled soldiers free of charge. The hospital also provides various other panchakarma and oil treatments as well as steam baths, body massages, herbal baths, etc.