Sitting in a deck chair at a white South African squatter camp, Ann le Roux, 60, holds a yellowing photo from her daughter's wedding day. Taken not long after Nelson Mandela became the country's first black president in 1994, it shows Le Roux standing with her Afrikaans husband and their daughter outside their home in Melville, an upmarket Johannesburg neighbourhood.
Sixteen years later, she lives in a caravan and a tent shared with seven other people, including her daughter and four grandchildren, at a squatter camp for poor white South Africans. She is one of a growing number of whites living below the poverty line in South Africa who blame affirmative action and the ANC-led elected government for their plight.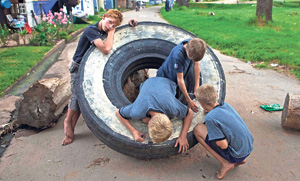 Children play with a tyre used to block the entrance to a squatter camp for poor white South Africans, at Coronation Park in Krugersdorp
Le Roux had to sell her house after her husband died and she lost her job as a secretary at the city planning council -- where she had worked for 26 years -- after she took time off work to recover from the loss of her husband.
"They wouldn't take me back because of the political situation," she says, looking down at the fading photo. "Our colour here is not the right colour now in South Africa," Le Roux says, echoing the complaint of many impoverished whites, mostly Afrikaners who are descendants of early Dutch and French settlers.
While most white South Africans still enjoy lives of privilege and relative wealth, the number of poor whites has risen steadily over the past 15 years. White unemployment nearly doubled between 1995 and 2005, according to the country's Institute for Security Studies.
Seeking to reverse decades of racial inequality, the ruling ANC government introduced affirmative action laws that promote employment for blacks and aim to give black South Africans a bigger slice of the economy.
This shift in racial hiring practices coupled with the fallout from the global financial crisis means many poor white South Africans have fallen on hard times.
At least 450,000 white South Africans, 10 percent of the total white population, live below the poverty line and 100,000 are struggling just to survive, according to civil organisations and largely white trade union Solidarity.
South Africa's population is about 50 million. Many poor whites have ended up in places like Coronation Park, in Krugersdorp west of Johannesburg, a leafy former caravan site beside a water reservoir and a public picnic park frequented by middle-class families at weekends.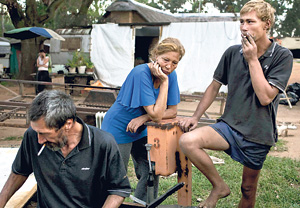 A family smokes together during a quiet moment at a squatter camp for poor white South Africans at Coronation Park in Krugersdorp
Ringed by yellow-brown hills of earth dug up by generations of gold miners, the park was used by the British as a concentration camp for Afrikaners during the Anglo-Boer war at the start of the 20th century.
Now it's home to some 400 white squatters living in cramped tents and caravans and sharing a single ablution block. Cats and dogs roam noisily through the camp, dodging heaps of rubbish, piles of scrap metal and abandoned car parts.
Water is heated and food cooked on open camp fires. The local council cut electricity to the camp after failing to evict the white squatters. The council wanted to develop the area into a wide screen viewing area for soccer matches ahead of the soccer World Cup, which South Africa hosts in June and July. Some residents, including three black South Africans, have lived there for years. Others arrived in recent weeks.
"If you're out of work and you haven't got money, where must you go to? No one wants to help you -- this is the only place to go to," says Dennis Boshoff, 38.
ZUMA SHOCKED
South African President Jacob Zuma visited a white squatter camp near the capital Pretoria last year ahead of his election, saying he was "shocked and surprised". "The vast number in black poverty does not mean we must ignore white poverty, which is becoming an embarrassment to talk about," Zuma said at the time.
White poverty in South Africa is a politically sensitive subject that gets little attention, but it is not new.
Under apartheid, introduced in 1948, whites enjoyed vast protection and sheltered employment. The weakest and least educated whites were protected by the civil service and state-owned industries operating as job-creation schemes, guaranteeing even the poorest whites a home and livelihood.
But with that economic safety net now gone, South Africa's unskilled whites find themselves on the wrong side of history, gaining little sympathy from those who perceive them as having profited unfairly during the brutal apartheid years.
Trade union Solidarity says there are around 430,000 whites who live in squatter camps. Around the capital Pretoria alone there are 80 squatter settlements. There are over 2,000 much larger black squatter camps across South Africa.
Formerly comfortable Afrikaners recently forced to live on the fringes of society see themselves as victims of "reverse-apartheid" that they say puts them at an even greater disadvantage than the millions of poor black South Africans.
"Blacks get more than whites at the moment. They're being pulled forward against us. That's why all of us are here. It's very unfair because they told us it was going to be equal, but it's not equal," said Boshoff.
This feeling of victimisation and abandonment by the state has forged at the camp a collective sense of fatalism, isolation and firm reliance on their Calvinist religion. Each of the camp's ramshackle huts and tents is adorned with religious paraphernalia and an Afrikaans language bible.
Many poor white communities also struggle with alcoholism, violence and abuse but at Coronation Park, social problems have declined. "We kicked a lot of the worst ones out and the fighting and violence has gone down," said Hugo Van Niekerk, who has managed the camp over the past few years.
Van Niekerk, who solicits donations and helps community members find odd jobs, successfully fought an eviction order last year from the local municipality but he expects little help from the council or government on housing.
"We won't get houses from this government. If we were black maybe yes, but we are white."