Geneva (ICRC) - Attempts to stem the alarming spread of tuberculosis (TB) across the globe are likely to fall well short of what's needed unless authorities in affected countries significantly increase their efforts to stop the deadly disease from breeding inside prisons, according to the International Committee of the Red Cross (ICRC).
"Tuberculosis is a silent killer that can't be confined to a cell. It's smart, resilient and growing deadlier by the day," said the ICRC's health in detention coordinator, Raed Aburabi.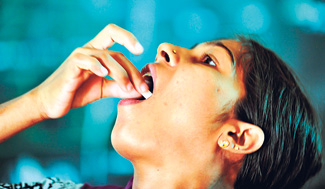 A tuberculosis patient in India taking her medicine given to her on World TB day which fell on March 24. AFP
"It has adapted faster than we could have possibly imagined to existing treatments, resulting in a major increase in multi and extremely drug-resistant strains, which pose a very real threat. TB can only be stopped outside prisons if it is tackled from within."
One in three people on the planet is infected with the microbes that cause TB and, of those two billion people, one in ten will become sick with the disease at some stage in their lives. Wrongly considered by many as an illness of the past, TB is making a comeback worldwide and kills, on average, one person every 20 seconds.
Owing to overcrowding, poor nutrition and inadequate health services, jails provide a perfect place for the airborne illness to thrive and spread. The incidence of TB inside prisons can be anywhere from 10 to 40 times higher than outside but, because it is very contagious, the disease can be easily transmitted to guards, staff, visitors and the families of infected, released detainees.
The ICRC has been working with the detaining authorities in around a dozen countries, including Azerbaijan and Georgia, for more than a decade to bring TB under control.
"When we started visiting prisons in Azerbaijan 15 years ago, we discovered that TB was killing around 300 inmates every year. Regardless of the crime they committed, many ended up with a death sentence," said Nikoloz Sadradze of the ICRC's delegation in Baku. "By last year, the number of deaths at the country's centralized TB prison hospital had fallen to 20, thanks to prevention measures, improved screening and diagnosis, and medically supervised treatment and follow-up."
Similar success has been achieved in Georgia, where the ICRC will hand over its TB-related activities to the authorities today.
Experience has shown that improved living conditions, including ample doses of fresh air and a diet of healthful foods, a heightened awareness of how TB spreads, and a better understanding by patients of the severe side effects that TB drugs cause, can make a big difference. The ICRC also recommends that authorities implement the World Health Organization's TB control strategy, known as DOTS, which requires government commitment, regular supplies of medication and observed treatment.
"Just as TB sufferers must find the individual courage to endure months or years of costly, complicated and painful treatment in order to be cured, the authorities in TB-affected countries must find the political courage to tackle the problem head-on and persevere in the long-run in order to save lives," said Mr Aburabi.
"The kind of commitment, change and creativity that's needed to outsmart this disease won't happen overnight. But if the same level of progress we've seen in Azerbaijani and Georgian jails could be achieved on a broader scale, we would stand a fighting chance of gaining the upper hand against this killer worldwide," he added.