SIRTE, Libya, March 27, (AFP) Arab leaders gathered in Libya on Friday ahead of a weekend summit amid a deepening crisis with Israel over its settlement policy in annexed east Jerusalem. Arab League chief Amr Mussa set the tone by insisting that Israel scrap plans to build 1,600 new homes for Jewish settlers in east Jerusalem before indirect talks with the Palestinians can start.
"Indirect Palestinian-Israeli peace talks depend on freezing settlements and especially on cancelling plans by Israel to build 1,600 settlements in (east) Jerusalem," he said.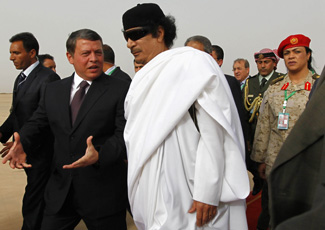 Libya's leader Muammar Gaddafi (C) listens to Jordan's King Abdullah (L) upon his arrival in Sirte March 26. Gaddafi is hosting this year's summit of the Arab League in his home town of Sirte from March 27-28. REUTERS
Palestinian president Mahmud Abbas was the first leader to arrive in the Mediterranean city of Sirte followed a few hours later by Sudanese President Omar al-Beshir, who faces an international arrest warrant for alleged war crimes.
US-led efforts to revive Palestinian-Israeli talks and Israel's determination to forge ahead with the construction of new homes for Jewish settlers in mostly Arab east Jerusalem are due to dominate the two-day meeting hosted by maverick Libyan leader Moamer Kadhafi.
The Arab summit opens on Saturday amid a spiral of violence in the Hamas-ruled Gaza Strip, where two Israeli soldiers and four Palestinian militants were killed in clashes near the border with Israel on Friday.
It also comes amid fresh promises by Israeli Prime Minister Benjamin Netanyahu that he will not heed calls for an end to settlement construction in east Jerusalem -- an issue which has stymied US attempts to restart indirect Middle East peace talks.UN Secretary General Ban Ki-moon also flew in for the summit on Friday and immediately held private and separate talks with Abbas and with Mussa.
On Wednesday, Ban said he will urge Arab leaders to support the US-backed so-called "proximity" talks between Israel and the Palestinians, reiterating that "settlements are illegal under international law" and saying "this must stop."
But Qatari Prime Minister Sheikh Hamad bin Jassem al-Thani, whose country hosted an Arab summit last year, criticised the United Nations for "failing to impose sanctions on Israel."He also noted that Arab foreign ministers agreed on March 3 to back a final round of US-brokered indirect Palestinian-Israeli peace talks and said:
"We wanted to give the American mediator a card and we will support mediators but not at the expense of our cause."Kadhafi, who is known for his unpredictability and for ruffling the feathers of his fellow Arab leaders, did not greet Abbas as he stepped off his plane, delegating instead Prime Minister Baghdadi al-Mahmudi to do the honours.
Shortly afterwards, however, the Libyan leader was on the tarmac to personally greet King Abdullah II of Jordan and other Arab leaders including Beshir, who will face a crucial electoral test at next month's polls in Sudan.