LOS ANGELES, March 26, (AFP) -The popular television cop series "24,"starring Kiefer Sutherland as detective Jack Bauer, will come to an end with the last episode of this its eighth season, Fox television network told film industry media Friday.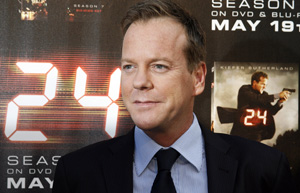 Cast member of "24" Kiefer Sutherland poses at a screening of the season finale of Fox television drama series "24" season seven in Los Angeles, California, in this May 12, 2009 file photo.
"It's very bittersweet. '24' was the greatest learning experience of my career so far," the 43-year-old actor, who won Emmy Awards for best producer and actor in 2006 for the series ,told Hollywood trade journal Variety.
"On a personal level, working with this cast and crew and writers, these will be friends of mine for the rest of my life," added Sutherland whose portrayal of the unstable Bauer in "24" also won him a Golden Globe in 2002 and made him one of the best paid television actors in the country.
"24" has been running since 2001 topping viewership ratings consistently, part of its attraction being its innovative "real time" format, with each of the season's 24 chapters representing one hour of actual action.
The son of also famous Hollywood actor Donald Sutherland, Kiefer Sutherland was born in Britain and began his acting career alongside his dad in 1983.