SEOUL, March 27 (AFP) Almost 50 sailors were missing after a South Korean warship sank near the tense border with North Korea, the military said Saturday, but officials said there was no sign so far the North was to blame.
President Lee Myung-Bak called an emergency security meeting and ordered a swift and thorough probe into what appeared to be one of the country's worst military tragedies for decades.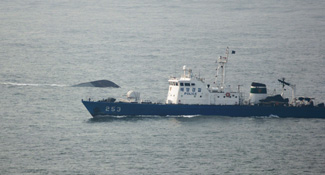 In a handout picture released by the Ongjin County Office shows a South Korean Navy Pohang class Patrol Combat Corvette PCC-772 Chonan sunk (top) as a maritime police ship (bottom) patrols to rescue possible survivors near Baengnyeong island off Incheon, west of Seoul on March 27. AFP
"Fifty-eight sailors have been rescued and 46 others are missing," a spokesman for the Joint Chief of Staff (JCS) told AFP, adding that a navy team was preparing to dive to investigate the cause of the sinking in the Yellow Sea.
The 1,200-tonne corvette sank Friday evening near Baengnyeong island after a still unexplained explosion. The craft turned turtle, with its hull protruding from the shallow but near-freezing waters.Reports said the 88-metre (290 feet) craft would have ben carrying torpedos and other weaponry.
The military said 13 of the 58 known survivors were injured but are in stable condition. Navy ships and surveillance planes were searching for more survivors.
"Rescue operations are still under way," another JCS official said earlier Saturday. "There is no clue yet on any North Korean involvement."Lee, who summoned an emergency security meeting immediately after the tragedy, called another session Saturday.
He ordered a "thorough and swift probe" into the cause of the sinking, "keeping all windows of possibility open," a spokeswoman said.