VATICAN CITY, March 27, (AFP) -The Vatican fought on Friday to limit the damage from a report alleging Pope Benedict XVI failed to bar the transfer of a known paedophile priest. The fresh allegation added fuel to the fire after child abuse scandals sweeping Catholic churches around the world have encouraged more and more victims to speak out.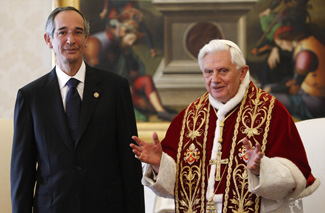 Pope Benedict XVI gestures as he poses with Guatemala's President Alvaro Colom (L) during a meeting in his private apartment at the Vatican March 26. AFP
The New York Times reported on Friday that Pope Benedict failed to act in 1980 to stop Reverend Peter Hullerman, accused of sexually abusing children, from taking up new duties in a different parish in Germany.
"The then archbishop had no knowledge of the decision to reassign (Hullerman) to pastoral activities in a parish," the Vatican said in a statement, adding that it "rejects any other version of events as mere speculation."Hullerman was suspended from his duties in the northern German town of Essen in late 1979 over allegations that he abused an 11-year-old boy.
The following January, the then Joseph Ratzinger led a meeting approving Hullerman's transfer to Munich despite a memo warning that the priest was a potential "danger," the Times said. Six years later, in 1986, Hullerman was found guilty of molesting boys in another Bavarian parish.
"The article in The New York Times contains no new information beyond that which the archdiocese has already communicated concerning the then archbishop's knowledge of the situation of Father H.," the Vatican said. The Munich archdiocese issued a statement on March 12 confirming that Benedict "took part" in a decision to offer accommodation to Hullerman while he underwent therapy, but former vicar-general Gerhard Gruber took "all responsibility" for the transfer decision that was taken later.
"The repeated employment of H. in priestly spiritual duties was a bad mistake. I assume all responsibility," Gruber said in the statement. New allegations of child sex abuse against Hullerman emerged this week dating both from his time in Essen and from 1998 in a different southern town.
The case comes on the heels of another New York Times accusation on Thursday according to which Benedict failed to act over an American priest accused of molesting up to 200 deaf children between 1950 and 1974.