Two Sunday's ago when I was reminiscing about the anniversary of Nelson Mandela's release from prison and how we tried before that to open a path to relations with South Africa it appeared impossible to tell the whole story in a single stroke.
Besides the larger political picture of a South Africa turning its back on white minority rule and the hated system of apartheid, that story 20 years or so ago had a very human side to it. That part of the tale is worth telling as we head for the Royal-Thomian this week as it concerns the medical skills of an old Royalist then working at Caritas Hospital in Hong Kong where I came to know him some months after I arrived in the then British colony to work for the Hong Kong Standard newspaper.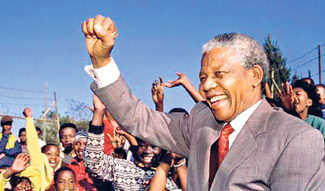 First Black President of the democratic republic of South Africa
In the previous piece I mentioned how I had taken the first tentative steps to cultivate the emerging South Africa through diplomatic contacts expecting officials in Colombo to follow it up after the initial unofficial meeting between a South African diplomat and officials in Colombo.
If the move towards creating the space for bilateral contacts fell through possibly through the insouciance of Foreign Ministry officials of the day, thankfully they could do little to stymie personal relationships. Ultimately the people to people relationship won over the tardy performance of officials at home whose narrow, traditional approach to diplomacy lost us an early breakthrough bilaterally.
The unforgettable story that follows is about an old Royalist- not a cricketer like that superb cricketer Selvi Perimpanayaga I met in South Africa but a well known athlete and I believe public school record holder. The person is Dr J.C.Fernando who was then an orthopaedic surgeon and married to another doctor Surangani, who also worked at the same Caritas Hospital in Hong Kong as a radiologist. I came to know JC, as he was popularly called, shortly after I arrived in Hong Kong in mid-September 1989. He was a popular person among the 500 or so Sri Lankan professionals working in the territory. They included a whole lot of doctors, engineers, academics, lawyers, journalists, architects, surveyors, civil servants with a few musicians and singers-professional and aspiring- thrown in.
I returned from South Africa around April 1991 having interviewed persons from different political parties and racial groups and having had an insight into the discussions held with regard to a new constitution. Before the elections in South Africa my friend Peter J.Botha, Pretoria's Hong Kong-based consul-general was transferred back on promotion. He was succeeded by a young consul-general Michael Farr. Quite quickly we became close friends and I did a couple of interviews with him about the changes that were happening in his country.
We often met at diplomatic receptions. I noticed that he was not always accompanied by his attractive wife Aletta. Whenever I inquired he used to say that she was at home.One day at a dinner at the Farr's I could not quite contain my curiosity and asked Michael about Aletta's presence. Michael said that his wife had a problem standing for long hours and that one of her legs ached terribly if she stood continuously.
Michael who had served in the South African mission in the US said they had consulted many medical experts in America, the UK and elsewhere but to no avail. Despite treatment the problem persisted. This conversation took place three or four months before South Africa's first democratic elections in April 1994. I told the Farrs that I knew a Sri Lanka doctor whose specialty was orthopaedics and whether they minded if I mentioned it to him. With Aletta's problem persisting despite all the expert help, the Farrs were quite keen I speak to my countryman who was Dr J.C.Fernando.
Two days later while talking to JC by phone I mentioned Aletta's problem. He listened to me for a while and asked whether Aletta had met with an accident. I said I was not certain but I'll ask Michael. "Give him a call now and ask him," he said, which I promptly did. I asked Michael the question and he was quite sure that his wife had not. I told JC this, but he would not believe it. Ask him to talk to his wife about it, he said. So I got back to Michael and asked him to find out from Aletta. He did so and called me back to say no, she had not met with an accident.
JC would not accept no for an answer. He had not met Aletta nor had he even seen her. Virtually out of the blue he asked me to call Michael again and find out whether Aletta had fallen off a horse. If that question took me by surprise it more than surprised Michael who said a definite no. Under JC's insistence I prodded Michael (quite politely of course) to ask Aletta. I hung on to the phone while Michael went off to talk to his wife. Four or five minutes passed and I was still clinging to the phone when Michael finally spoke. There was disbelief in his voice. "This is incredible," Michael said in a voice I thought was a mix of hope and trepidation. "She did fall off a horse while riding when she was about 13 years old."
At that moment I felt truly proud of JC. He had not even seen Aletta but was able to predict the cause of her ailment. JC told me to ask Aletta whether she could attend his clinic and gave me the date and time. The Farrs were more than happy to consult JC who treated her for several weeks and cured her of a problem that all the western experts they had consulted had failed to do. Somewhere early in 1994 I met Michael and Aletta at a cocktail party.
It seemed she was actually testing how long she could stand. Mandela's ANC won South Africa's first democratic election in April 1994. His inauguration as the first Black president of the country was on May 14. The South African Consul General held a big celebration that day at a Hong Kong club attended by Hong Kong's Governor Chris Patten and the colony's glitterati. At the end of the day when I went to say goodbye Aletta broke down in tears and thanked Dr JC Fernando and me for making it possible for her to stand through that entire ceremony without any problem at all.
I cannot quite remember whether JC attended the party to celebrate that memorable day in South Africa's history. Even if he did not due to pressure of work, he was surely in the minds of the Farrs that evening and perhaps till today for that unbelievable medical diagnosis and cure.