These were the last words, the last request, addressed to the public by environment champion Piyal Parakrama, who passed away recently. He was 49 years.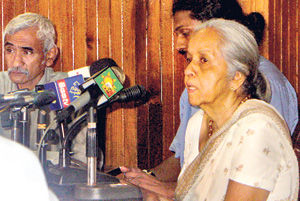 Well known green activist and actress Irangani Serasinghe also addressed the same news conference that was addressed by Mr. Parakrama
Mr. Parakrama was speaking at a news conference on February 27, highlighting the harmful effects of election campaigning on the environment. He said voters should put pressure on politicians to be more environment-friendly.
While not all politicians polluted the environment with posters and polythene bags in their campaigning, many engaged in other environmentally harmful activities, he said. Mr. Parakrama suffered a fatal heart attack later that day.
Piyal Parakrama launched his public career in environment activism when he joined the Young Zoologists' Association in 1980. He was an effective communicator, speaking eloquently on high-profile environment issues, and he had a flair for explaining complex environmental issues in simple layman's language. As a crusader fighting to protect the environment, he battled on to the very end.