Around 10,000 motor cycles and 25,000 bicycles belonging to LTTEers and civilians who fled, are seen stacked in the Wellimulliwaikkal and Nandikadal areas and other areas in the Mullaitivu district.
They, together with the innumerable ruined abodes ranging from what were once thatched cottages to well built houses, remain as the legacy of the three decade old war.
The region bears tell tale marks of the war that was fought fiercely between the LTTE and Government forces. Remains of military vehicles such as bullet proof trucks and jeeps still lie around.
Herds of cattle are still to be seen reminding us that villages once existed in these areas. The security forces are still in the process of de-mining with the aid of equipment received from a number of countries. Places like Puthukudiyiruppu, Viswamadu, and Putumattalan which were the central areas where the war was fought, are still out of bounds to the public due to the area being infested with mines and permission has to be obtained from the defence authorities to gain access to the area. A victory memorial has been put up in Puthukudiyiruppu captured by the 53 and 58 Divisions of the Army. Names of all regiments that took part achieving this victory are inscribed on this memorial. A monument to mark the spot where LTTE leader Velupillai Prabhakaran fell is being erected by the security forces.
Meanwhile, a visit was undertaken by Minister Milroy Fernando who hails from the Puttalam district to look into the possibility of fishermen from his district traditionally involved in fishing in the Nayaru lagoon and in the sea off the Mullaitivu coast, to return.
Mr. Fernando said that fishermen from other areas have not been in the region for the last 20 years due to the conflict.
He said that the villagers who lived in these areas were involved in cultivation and therefore there was a chance for fishermen from other areas to come into the area for seasonal fishing.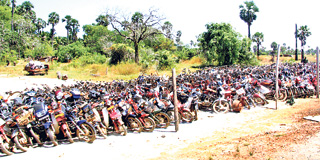 Motor cycles left behind by fleeing civilians and LTTEers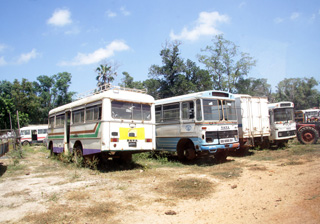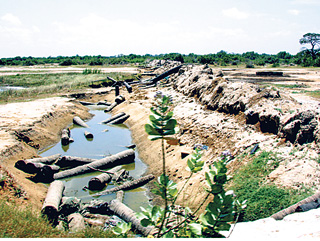 Abandoned military equipment in a trench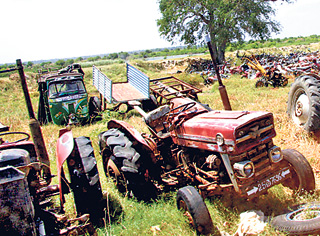 Tractors rusting in a field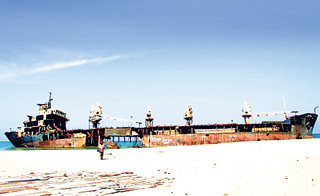 The Jordanian ship MV Farah 111 that ran aground off the Mullaitivu coast. This ship was used by the LTTE to fire from in a last ditch battle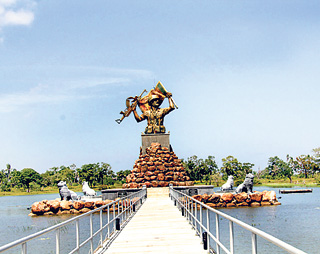 The memorial at Puthukudiyirippu