Health officials are still waiting for the official greenlight to import supplies of Bacillus thuringiensis israelensis (Bti), a larvicide used to check the spread of dengue. The Ministry of Health had said it would start deploying Bti in January. Since January this year, 55 deaths from dengue have been reported from around the country.
According to Dr. Nihal Jayathilake, Secretary to the Ministry of Health, the Cabinet-appointed tender board has still to approve the request to import Bti. "Once we get the tender board's approval, we should be able to get supplies very quickly," he said.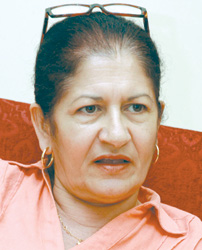 Nirsia Castro Guevara, Ambassador to the Republic of Cuba.
Nirsia Castro Guevara, Ambassador to the Republic of Cuba, told the Sunday Times that the Cuban embassy had so far received no official communication from the Health Ministry to supply Bti to Sri Lanka.
"The Cuban government has extended expert advice and recommendations to Sri Lanka on the dengue issue," Mrs. Guevara said, adding that the embassy was in discussion with Health Ministry officials.
"The embassy is there to facilitate matters, but the order to supply Bti is strictly a business transaction," the ambassador said. "The Cuban government has sent experts to assess the situation in Sri Lanka and make recommendations. Cuba has wide experience in tackling dengue. We supply Bti to a number of African nations plagued by mosquito-borne diseases."
Last year, following 334 deaths and 34,896 cases of infection caused by dengue, the Ministry of Health brought in two Cuban health experts to assess the suitability of Bti to control the epidemic here. The Cabinet has approved a sum of Rs. 2 billion to import 30,000 litres of Bti for ground spraying and aerial fogging. The bacterium Bti can kill mosquito larvae present in water.
Over the past two months, 55 deaths from dengue and 8,797 dengue-related cases have been reported. Fourteen deaths were reported from Jaffna district, eight from Colombo district, seven from Gampaha, six from Batticaloa, and five from Trincomalee.
In 2007, 7,314 cases of dengue were reported. The following year the number decreased to 6,555. In 2009, the number of cases rose to 34,896. This year, there were 4,611 cases in January and 4,186 in February.
According to Paba Palihawadane, director of the Epidemiology Unit of the Health Ministry, dengue has surfaced in many tropical countries. She said the public could help check the spread of dengue by burying empty containers; using salt water on flower vases and ant traps, removing debris and dead leaves blocking drains and gutters, covering all utensils containing water, and not leaving polythene bags lying around.
Dengue fever symptoms, according to Dr. Palihawadane, include high fever, headaches, body rashes; muscle and joint pains, nausea and vomiting. Suspected dengue patients should seek immediate medical treatment. They should take plenty of fluids and get plenty of bed rest.
Jaffna leads among districts with the highest incidence of dengue: Jaffna 1,625; Gampaha 1,169; Colombo 1,031; Batticaloa 575, and Anuradhapura 523. Areas in Jaffna especially vulnerable to dengue are Sandilipay and Nallur.
According to R. Raveendran, secretary to the Northern Province Ministry of Health, uncleared garbage is the main reason for Jaffna's high incidence of dengue.
"Thousands of visitors come to Jaffna on weekends, and they are big contributors to the garbage problem. Last weekend, some 70,000 visitors were in Jaffna."