At least 10 persons have been injured, six propaganda party offices attacked and at least 10 vehicles damaged as pro-government supporters took on each other in tit-for-tat clashes with poll observers fearing more home and home incidents as candidates fight for preferential votes ahead of the forthcoming general elections.
The most serious incident was recorded at Walapane late Friday last week when the party office belonging to Nimal Peiris a candidate from the United People's Freedom Alliance (UPFA) was extensively damaged and six persons injured, Rohana Hettiaarachchi of the People's Action For Free and Fair Elections (PAFFREL) said.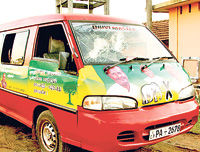 Puttalam: A vehicle belonging to the DNA damaged allegedly by UPFA supporters
The incident at Walapane came barely 24 hours after supporters of two UPFA candidates clashed in Pasyala which left at least 10 vehicles damaged, Mr. Hettiaarachchi said.
More incidents were reported to the observers from Kalutara, Hambantota, Matale, Kurunegala, Badulla, Anuradhapura, Ampara, Polonnaruwa, Jaffna, Batticaloa and Trincomalee, he added.
Keerthi Tennakoon of the Campaign for Free and Fair Elections (CaFFE) said candidates contesting the upcoming elections on the United People's Freedom Alliance (UPFA) ticket are targeting fellow hopefuls instead of the opposition as the race for the preferential vote hots up.
He said UPFA candidates are openly campaigning against each other in most parts of the country while opting to ignore the opposition.
"This is not a healthy development since the 'number' war could end up in violence. Already there has been some 18 cases of violence reported in 'home and home' fighting between the UPFA candidates," he said.
These candidates are not worried about the issues facing the people and the country but are only interested in increasing their personal votes even if it means going against their fellow party men," Mr. Tenakoon said.