Most of the over 7,000 candidates contesting the forthcoming election, have opted for alternative security measures due to the police not being able to accommodate their requests for security.
Many candidates have resorted to employing private bodyguards clad in clothing similar to the police Ministerial Security Division (MSD) officers, while some of them have deployed their personal guards including those with criminal records, as witnessed by journalists covering election campaign rallies.
In the north Tamil political groups have deployed former para-military members for their security.
Security firms have offered their services to candidates as well.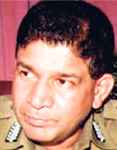 DIG Gamini Navarathne
One of the security companies speaking on grounds of anonymity told the Sunday Times they were willing to provide armed guards with semi-automatic firearms and sub-machine guns. But legally private security firms are not able to provide armed body- guards.
Chief of the Police Elections Unit DIG Gamini Navarathne told the Sunday Times if candidates made a formal request for security in writing to the Inspector General of Police, their threat level would be assessed and based on it security would be provided.
"If they want they can hire private body- guards but there are certain restrictions in that. A bodyguard carrying a weapon can only be authorized by a directive from the Ministry of Defence. But the weapon is usually a pistol," he said.
The DIG commenting on some of the bodyguards with criminal records being deployed for security said "people with previous criminal records can provide security to a person. This is a democratic country and he can get into any job he wants. But if they are wanted by the police we will take them into custody. If there are underworld figures or any persons carrying unlicensed firearms we will take action," he said.
Former TNA member of parliament from Jaffna, Suresh Premachandran told the Sunday Times that the threat level of candidates in the north and east was high due to the fact certain paramilitary groups were supporting a few political parties there.
"These paramilitary groups are funded or supported by these political parties and the government hasn't entirely disarmed them. They can intimidate us due to their cadres freely carrying weapons.
"We as candidates from that region face great threats due to this. My office in Jaffna was stoned soon after nominations. Despite this they haven't provided me with security.
"On Friday I was provided with one MSD bodyguard from the police. When I spoke to the Director MSD complaining the security provided was inadequate, he told me he was only following orders," he said.
However some of the other Tamil parties contesting in the north and east have deployed former militant group members for their security.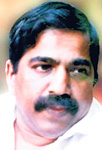 Suresh Premachandran
On Friday the Supreme Court ordered security be increased for ex-members of parliament. Chief Justice Ashoka N. de Silva informed senior state counsel Viveka Siriwardena to take measures to inform the IGP to provide at least four police officers for the security of former parliamentarians.
The Supreme Court issued this order in the backdrop of a fundamental rights petition filed on behalf of 18 former UNP parliamentarians on the withdrawal of security provided to them.
President's Counsel Thilak Marapana appearing on behalf of the petitioners pointed out following the dissolution of parliament, the security provided to MPs had been completely withdrawn while threats to their lives remained.
The case will be taken up again on March 16.