CONSTITUCION, Chile, March 6, (AFP) UN Secretary General Ban Ki-moon was to visit the earthquake-struck Chilean city of Concepcion on Saturday as new fears spread among Chileans following three strong aftershocks.
The Navy meanwhile sacked the head of the Oceanography Service, saying he had failed to provide a clear warning of the killer tsunami which followed Saturday's 8.8-quake, as criticism grew of the official disaster response.
A first 6.2-magnitude aftershock jolted people awake at 6:20 am (0920 GMT) on Friday, just six days after the 8.8-magnitude quake which, along with the tsunami, left more than 800 people dead and some two million homeless.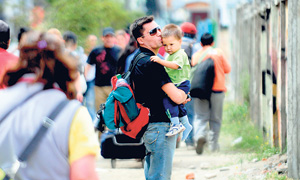 A man holds a child in Concepcion street after quake, Chile, on March 5, 2010. Chileans will be feeling aftershocks from the devastating 8.8-magnitude earthquake for months and possibly years to come, scientists said March 5, 2010, as three strong tremors rocked the country. AFP
That was followed by a 6.8-magnitude tremor -- one of the strongest of more than 200 to rattle Chile since the weekend -- and another measuring 6.6.
Some damaged buildings in Concepcion, the country's second city and the one worst affected by the big quake, collapsed, but the national emergency services said the aftershocks caused no injuries or serious damage.
Oceanography chief Mariano Rojas was removed from his post on Friday, and the head of the Navy opened an investigation into "the decision process after the natural catastrophe," an official statement said.
Military officials have admitted transmitting "very unclear information" to President Michelle Bachelet on whether to lift or maintain a tsunami alert, as giant waves began crashing into the Pacific coast.
The UN secretary general arrived in the capital Santiago on Friday to assess the damage and meet with Bachelet and president-elect Sebastian Pinera.
Ban pledged 10 million dollars in immediate help from the UN and helped launch a 24-hour telethon Friday night featuring artists and athletes, which aimed to raise 15 billion pesos (29 million US dollars) for disaster victims.
He will also visit Talcahuano, a port hit by the tsunami, on Saturday. During the telethon, Bachelet rallied Chileans with campaign trail intensity, urging viewers to "join in helping those most in need."Although activity in banks and some shops signaled a return to normal in the city of Talca, 300 kilometers (186 miles) south of the capital, some remained camped out, and protested government negligence.
A crowd of angry people blew horns and burnt tires in the city center.
"We need help, we need food. The police is not providing security," read one handwritten banner.