LOS ANGELES, March 6 (Reuters) - Oscar nominees Woody Harrelson and Mo'Nique took home early prizes on Friday at the Spirit Awards, the independent film world's version of the Oscars.
Sitcom veteran Harrelson, 48, was honored for his supporting turn in "The Messenger," in which he played a U.S. Army captain who must notify soldiers' next-of-kin when they are killed in service.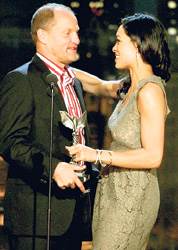 Actor Woody Harrelson accepts the award for best supporting male for the film "The Messenger" from presenter Rosario Dawson. REUTERS
Harrelson, who rose to fame playing naive bartender Woody in TV comedy "Cheers," will also vie for an Academy Award on Sunday, although pundits expect the prize will go to Austrian actor Christoph Waltz for his turn as a Nazi polyglot in "Inglourious Basterds."
Comedienne Mo'Nique, 42, won a Spirit for her supporting turn as an abusive mother in the urban drama "Precious: Based on the Novel 'Push' by Sapphire." She is expected to cap her clean sweep during awards season with an Oscar.
"Precious" also won the Spirit Award for best first screenplay, an honor that went to Geoffrey Fletcher. Along with the Tolstoy drama "The Last Station," it led the field with five nominations each, including best picture and director.
Other early winners included "Crazy Heart" for best first feature. "He never directed a high school play before," Robert Duvall, one of the "Crazy Heart" producers, said of first-time director Scott Cooper.
The 25th annual Spirit Awards were held at night underneath a marquee on a rooftop parking garage in downtown Los Angeles, ditching the traditional midday setting at the beach.
Some observers had worried the famously relaxed and boozy ceremony would lose some of its edge, but organizers have been at pains to say the cocktails would flow and speeches remain unrestricted.
The Spirit Awards honor low-budget American films based on such criteria as original, provocative subject matter and the degree of independent financing. The event is organized by Film Independent, a nonprofit group that champions arthouse movies.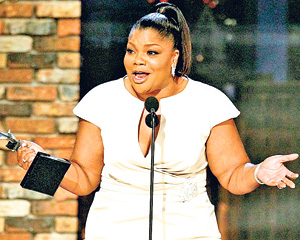 Mo'Nique accepts the award for best supporting female for "Precious: Based on the Novel 'Push' by Sapphire" . REUTERS