If you believe one recent report, MF Husain is no longer an Indian citizen. "It is all over. I've just completed the final formalities," the celebrated painter is supposed to have told an "anguished" Indian fan at the airport in Qatar's capital, Doha. The fan had asked Husain - Forbes magazine once called him the Picasso of India - whether he had accepted an offer of Qatari nationality.
The story of Husain is one of the saddest of post-Independence India. It is a story of how the country's most famous painter has been hounded out while the state looked on.
Thirteen years ago, hardline Hindus attacked Husain for his paintings of nude Hindu goddesses. In 2006, he apologised for a painting in which he represented India as a nude goddess. Hindu nationalists accused him of defiling their region.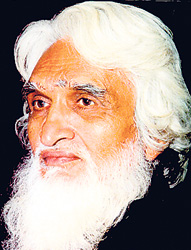 MF Husain: India has lost a national treasure
They didn't stop at that. They vandalised his exhibitions and filed law suits all over the country. Husain reckons that there are 900 cases against him in Indian courts. His lawyer in Delhi tells me he is personally aware of seven such cases. Four have been dismissed, in three others judgement is still pending.
For the past three years, the 95-year-old maverick painter has been living in Dubai and London. When news washed up earlier this month that he was contemplating taking up Qatari nationality, there was predictable outrage from the arts world in India.
"This is not the first time we have thrown away our geniuses," said fellow painter Anjolie Ela Menon. "In India, we recognise our national treasures only when they are gone." Film actor Sharmila Tagore urged the need for a "movement" to bring back the painter to India since "isolated voices" will not help.
To many, this sounded like a case of too little, too late. Most galleries have been scared to exhibit Husain's work for some years now. A big art summit hosted by India two years ago did not exhibit a single Husain painting. Unbelievable, but true.
Many say the Indian government could easily promise Husain security and coax him to return to India. But that wouldn't necessarily allow the painter to live in peace. As his lawyer, Akhil Sibal, tells me, there's nothing to stop more cases being filed against the painter in remote courts or even getting a judge somewhere to order his arrest. The misuse of judiciary to settle scores is rampant in India.
The Supreme Court ruled on the controversy two years ago. It said that Husain's paintings were not obscene and that nudity was common in Indian iconography and history. It was sad that a court had to remind a people of their own traditions.
Conflicting ideas and ideologies have thrived in India for centuries and the country's ability to manage diversity has been its greatest strength. What value is art if it does not provoke, stimulate and trigger debate?
Many believe that Husain's treatment is a shameful indictment of India. It is also seen as a telling commentary on how the country's antiquated and slow-moving justice system can be subverted to harass people. Many people I meet ask why one of India's brightest talents should suffer such indignity. That begs the question: Does India really deserve MF Husain?
Courtesy BBC