UNITED NATIONS, Mar 4, 2010 (IPS) - The status of women in a predominantly male-chauvinistic Arab world continues to fluctuate from one extreme to another.
The political and cultural life in the region, by and large, has been characterised by the good, the bad and the ugly. On the one hand are child marriages and honour killings (deemed barbaric) in the rigidly conservative countries, and on the other, are the appointment and/or election of women to high office (hailed as impressive success stories) in the relatively liberal countries.
"Women can already been seen in greater numbers in our parliament, ministries, judiciary, armed forces and police, and they have also assumed very senior positions in both public office and the private sector," says Hala Latouf, head of the Jordanian delegation to the Commission on the Status of Women.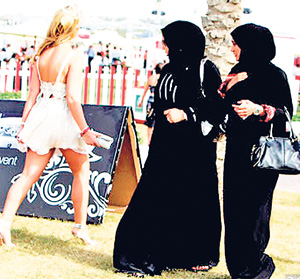 Arab women in Hijab in the West.
She also proudly notes that Jordan now has women governors, mayors, judges and ambassadors, in addition to women chief executive officers (CEOs) in key industries and businesses, consultative bodies and chambers of commerce and industry.
"The new draft law on elections is expected to allocate even greater number of (parliamentary) seats for women," she declared.
On an equally positive note, Dr. Jouhaina Sultan Seif El-Issa, vice chairperson of Qatar's supreme council for family affairs, points out that Qatari business women account for more than 50 percent of the total equity investors and dealers in the Doha Stock Market.
At the same time, the number of women-owned companies in Qatar now amount to nearly 1,500.
She said Qatar has established two Foundations: one, for child and women protection, and the other, to combat human trafficking.
Still, says Nadya Khalife of Human Rights Watch, most governments in the region discriminate against women in personal status laws which govern their everyday lives, including issues of marriage, divorce, custody and guardianship, and inheritance.
In an interview with IPS, Khalife said that some provisions in penal laws also allow for perpetrators of so-called honour crimes to receive a mitigated sentence or be exempt from punishment based on "family honour".
"These crimes are typically committed in cases of adultery or sex outside of marriage," she said.
And some countries in the region, she pointed out, do not have laws to protect women from domestic violence.
"Women are often not encouraged to report abuses to police and find difficulties in seeking redress," she added. U.N. High Commissioner for Human Rights Navi Pillay said that most of the 5,000 honour killings reported to take place every year around the world do not make the news, nor do the other myriad forms of violence inflicted on women and girls by husbands, fathers, sons, brothers, uncles and other male and sometimes even female family members.
"In the name of preserving family honour, women and girls are shot, stoned, burned, buried alive, strangled, smothered and knifed to death with horrifying regularity," she added.
Although she did not identify any countries by name, Pillay said the problem has been exacerbated by the fact that in a number of countries domestic legal systems, including through discriminatory laws, still fully or partially exempt individuals guilty of honour killings from punishment.
A study released by the Washington-based Freedom House early this week singles out 15 countries in the region as having recorded "some gains in women's rights" over the past five years.
Kuwait, Algeria and Jordan saw the most significant progress while Iraq, Yemen and the Israeli-occupied Palestinian territories — enduring internal conflicts and/or religious extremism — are the only countries to record overall decline.
Nadia Hijab, an independent analyst who works on gender, human rights, and the Arab-Israeli conflict, told IPS that Arab women are constantly making progress in securing political, economic, and social rights — but it is slow and incremental.
The obstacles are huge: women's rights are tied to the struggle for democracy, defining the role of religion in the state, and the drive for equitable development, she said.
"That there is progress is a testament to the increasingly sophisticated and determined efforts of women's groups that are pushing the boundaries of debate in all these areas," she said.
Hijab said that as in many other parts of the world, the key is recognition that women are equal partners within the family and under the law. This is why it is such a success when women gain the right to grant their nationality to their husbands and children, as they have in Algeria: it is recognition of their equal status at home and in the public sphere.
Similarly, the fact that there are women judges in Morocco and Lebanon sends a very powerful message in a region where some countries still consider women legal minors, Hijab declared.
She said the region is also heavily impacted by internal and cross-border conflicts that set women back.