LOS ANGELES, March 6 (Reuters) - Organizers of this year's Oscar telecast promised on Friday the competition will be fierce and the show fast-paced in a bid to boost viewership as box office hits like "Avatar" vie for best film.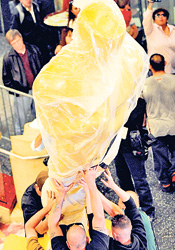 An Oscar statue covered in protective plastic is installed by workers on the red carpet as preparations for the Academy Awards continue outside the Kodak Theatre. AFP
Sunday's Academy Awards ceremony -- criticized in the past as bland, unfunny and even unappealing for a young audience -- is being outfitted with more humor and a youthful mentality, organizers told a news conference on the red carpet outside Oscar's home, the Kodak Theatre in Hollywood.
"We designed part of the show, not to lose the traditional audience but to reinvite the younger audience," co-producer Bill Mechanic said before boldly predicting "anybody under the age of 25 will enjoy the show unlike any other." Organizers hope the biggest change in the awards -- the expansion to 10 best picture nominees instead of five -- will yield a larger TV audience after more mainstream movies got the nod.
In past years, lower-budget and little-seen critical successes have dominated the world's top movie awards, such as the dark drama "No Country For Old Men" that won best film in a 2008 telecast watched by a small U.S. audience of 32 million.
When "Titanic" sailed home with 11 Oscars including best film at the 1998 ceremony, a high of 55.2 million people watched.
Widening the field to 10 nominees helped the Academy of Motion Picture Arts and Sciences include hits like "The Blind Side" and "Avatar," which surpassed "Titanic" to become the No. 1 all-time draw at global box offices with $2.5 billion.
"The competition is a bit more fierce this year," Academy President Tom Sherak said. "That is good for the show." Asked if the producers were under pressure to live up to the expectations of a bigger audience, Sherak said the nominations for films that have proved popular such as "Avatar" were "going to help." "When people are invested in those movies they have seen, then they can cheer for them or root for them and they can possibly win," he said.
"Hairspray" director and show co-producer Adam Shankman put it this way: "Snobbery departed the Oscars this year." Among new presenters announced on Friday were Tom Hanks, Robin Williams, Cameron Diaz, Jennifer Lopez, Spanish director Pedro Almodovar and best actor nominee Colin Firth.
Hosting is the unlikely pairing of Alec Baldwin, 51, who specializes in sardonic quips not unlike the character he plays on the TV comedy "30 Rock," and Steve Martin, 64, who specializes in absurdist and physical comedy.
Baldwin will bring out the "wild-and-crazy guy in Steve Martin you haven't seen for a while," said Shankman. Mechanic said the pair would make the show "more interesting and faster-paced."