NAJAF, Iraq, March 6 (Reuters) - A car bomb exploded in Iraq's holy city of Najaf on Saturday, a day before a national election, killing at least one person in an area popular with Shi'ite pilgrims, police said.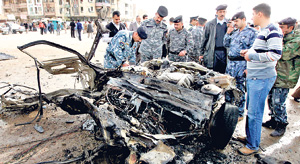 Iraqi policemen examine the remains of a vehicle used in a bomb attack in Najaf. REUTERS
The explosion gutted at least two tour buses parked at a garage near the revered Imam Ali shrine, which draws millions of Shi'ite faithful from Iraq and Iran each year.
Medical officials in Najaf put the toll at one dead and eight wounded. At least 45 people have been killed over the past few days as the election campaign drew to a close, some of them members of the security forces who were voting early.