Earlier this month the world commemorated the 20th anniversary of Nelson Mandela's release from a South African prison after being committed by the then Apartheid regime.
It brought back memories of the universal excitement and joy and the media frenzy when Mandela, a towering, almost mythical, political figure made it to freedom that February day. It was afternoon in Cape Town but late evening in Hong Kong when he emerged into freedom after 27 years incarceration.
For days there had been speculation about Mandela's impending release. Even then his eventual release made headlines in that small colony as it did almost everywhere else in the world. The British Government under Prime Minister Margaret Thatcher had fought tooth and nail to stop the Commonwealth from imposing sanctions against South Africa. Thatcher had stood alone in her opposition to sanctions at the Commonwealth summit in Kuala Lumpur several years earlier while all around her apartheid South Africa was being denounced by anti-colonial forces.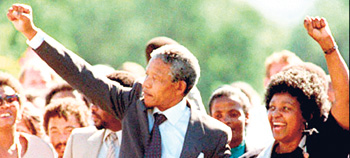 Nelson Mandela walks out of jail with his wife Winnie
There was another reason why the new political climate in South Africa epitomized by the release of the heroic Nelson Mandela was making news in Hong Kong. Around the same time, Jerry Matsila, the chief representative of the African National Congress (ANC) that led the struggle against the white minority government, had during a visit to Hong Kong accused the colony's British administration and the business community of busting international sanctions against South Africa.
At a press conference in Hong Kong in 1990, Matsila reiterated what the United Nations had said, that Hong Kong has been trading with South Africa. There was a statutory ban on importing iron and steel and dealing in Kruger Rand from South Africa. Matsila threatened to call for a boycott of Hong Kong goods if it continued to trade with South Africa. He was ready to call for trade unions in ports to boycott handling cargo for or from Hong Kong.
I was then working for the Hong Kong Standard and covered Matsila's press conference and wrote up the story big because it concerned the British administration that was permitted the violation of UN sanctions. Later I had a more detailed discussion with Jerry Matsila on political developments in South Africa. As I was covering diplomatic affairs for The Standard, I had also met South African Consul-General Peter J. Botha on several occasions and had also interviewed him. During one meeting over lunch Consul-General Botha said he would love to visit Colombo and spend some time watching cricket. Even a blind person could see that winds of change were blowing-if not exactly sweeping at the time- through South Africa and this was the time to create an opening for future diplomatic relations.
Speaking to African and Indian diplomats in Hong Kong it seemed clear that India would try to make a diplomatic breakthrough early-South Africa had a substantial number of persons of Indian origin especially in Durban- in the hope of establishing close political and economic relations. Since Sri Lanka still sold tea to South Africa and Air Lanka seemed keen on flying to Johannesburg, I thought it would be in our interest to build on these contacts to prepare for a new relationship.
So when Consul General Botha decided to visit Colombo, I contacted Bradman Weerakoon, who said he would arrange an informal lunch and Botha should contact him on arrival. When I got back to Bradman Weerakoon from Hong Kong he said it was a very useful meeting and indicated it would be followed up but had to be done informally. The ice had been broken and now it was for the Foreign Ministry I thought to pursue the idea.
Botha contacted his Foreign Ministry and arranged for me to visit South Africa and see the changes taking place including the discussions that were being held on a new constitution. I spoke to Jerry Matsila about what I thought would be a new beginning in relations between the two countries. Jerry was later to become South Africa's High Commissioner to New Delhi concurrently accredited to Sri Lanka. He was in a great position to help us especially with regard to the LTTE's attempts to make South Africa a major base for the Tigers using the ANC contacts it had. For reasons best known to the mandarins of the Foreign Ministry these initial openings were never followed up so the contacts I had built up with Jerry Matsila did not appear to have done much good.
About a year after Nelson Mandela's release I visited South Africa and was impressed by the political and constitutional developments there which would ultimately allow that once-ostracized country to return international acceptability under majority rule. In the late 1980s there were already incipient signs of the LTTE making inroads into the ANC on the basis that they were all freedom fighters. This found resonance in some ANC circles, especially ANC combatants.
When I got there in early 1991, it was quite clear that the LTTE had a sympathetic ear in a South Africa heading for change. My early moves to have Sri Lanka make unofficial, informal contacts with those who were going to effect regime change had not fallen on receptive ground. To our mandarins in Colombo it seemed South Africa was still living in the dark days of apartheid and it was a diplomatic untouchable. As far as they were concerned not even Mandela's release from prison after 27 years appeared to portend the birth of a new South Africa.
The writer is a serving diplomat at Sri Lanka's mission in Bangkok