NEW YORK-- The Sri Lankan Mission to the United Nations last week sponsored the first-ever concert of Sri Lankan-American celebrities at the Asia Society.
The two-hour long event, attended mainly by ambassadors and senior UN officials, featured some of the country's most talented artistes currently living or studying in North America.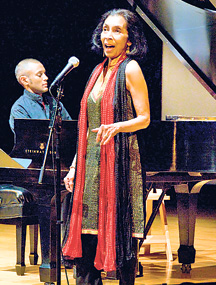 Jazz vocalist Yolande Bavan accompanied by pianist Rohan de Silva
The performers included Yolande Bavan (jazz vocalist), Rohan de Silva (piano), Pradeep Ratnayake (sitar), Tharanga Goonetillake (soprano) and Dinuk Wijeratne (piano).
Yolande, the only Sri Lankan to appear on Broadway is best known in the US as a member of a leading jazz vocal trio: Lambert, Hendricks and Bavan.
Rohan, who has performed at New York's prestigious Carnegie Hall and Lincoln Centre, has long partnered some of the world's best known violin virtuosos, including Itzhak Perlman and Midori.
Pradeep, currently on a Fulbright Scholarship at Columbia University's Music Department is a classical sitarist and composer who has been dubbed the "Ravi Shankar" of Sri Lanka.
Tharanga is a member of the Julliard Opera Centre having read a degree in Master of Music at the world famous Julliard School. Her experiences in opera include the role of Mimi in La Boheme and Pamina in the Magic Flute by Mozart.
Dinuk, who made his Carnegie Hall debut in 2004, is a conductor, composer and pianist who has performed with the internationally-renowned Yo Yo Ma and the Silk Road Ensemble. Currently a resident of Canada, he has been described by the Canadian Broadcasting Corporation as an artiste "internationally respected for his virtuosity and sensitivity as a musician."
The concert was held to coincide with Sri Lanka's national day celebrations. A reception that followed the concert was hosted by Sri Lanka's Permanent Representative to the UN, Ambassador Palitha Kohona.