Sri Lanka is to officially appeal to a number of museums in several countries as well as private collectors to return cultural and religious artefacts and statues taken away from the country during the colonial period, Sacred Area Development Minister Dinesh Gunawardena said.
"Official requests will be made stressing the fact that Sri Lankans will be glad not only to see the remains of their heritage, but also to study the artefacts." he said.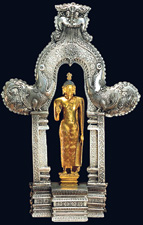 The 18th century AD gilt bronze and silver Buddha statue. Pic. courtesy British Museum
The final Committee Report on Repatriation of Cultural Properties to identify and prioritize Sri Lankan cultural artefacts in other countries was submitted this week naming several important artefacts that have cultural and religious value.
The 16th century ivory casket intricately designed with mythological scenes of ancient Ceylon presently at the Kunsthistorisches Museum in Vienna, Austria, the ivory and gold chest with rubies and sapphires embedded in it depicting events from the time of the last Buddhist emperor, is presently at Munich Museum in Germany, the bronze figure of a seated Buddha is at the Royal Scottish Museum in Edinburgh, while an ivory cabinet with figures of Adam and Eve, engraved during the Dutch period, presently at the Victoria and Albert Museum in London, are some of the artefacts named by the committee.
A gun mounted on a carriage on two wheels, designed during 1745, with the emblem of the Kandyan King is presently in the Rijksmuseum in Amsterdam, Netherlands, a 'thalpatha' (umbrella) used during King Keerthi Sri Rajasinghe's rule is in Paris, a small bronze 6/7th century statue of a seated Buddha and the bronze figure of Avalokiteswara are in the Cleveland Art Museum in the United States while the Tara Devi statue is in the British Museum. They are also some of the artefacts the committee has considered as having a historical, cultural and religious value.
The minister said that if certain parties, especially private collectors, were unwilling to hand over the artefacts they could at least give them for display at exhibitions to be organized in the country in future.
Lending artefacts on long term/short term basis, creating opportunities for arts and history students and archaeologists to study them are some of the proposals the Ministry is to follow up.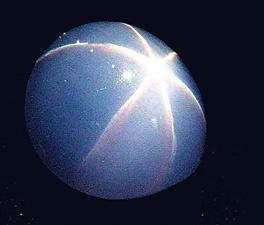 This greyish blue gem, known as the Star of India, was mined in Sri Lanka and is now at the American Museum of Natural History in New York City
"The world's largest gems especially sapphires are from Sri Lanka. Unfortunately most of them were taken to other countries during the colonial period," the Minister said.
He said that during a visit to Mauritius its Foreign Minister had requested support in preserving the bungalow, belongings and writings of Ellepola Nilame and several patriots who were imprisoned in Mauritius during British rule.
"We have to take steps to preserve such places as well," Mr. Gunawardena said adding that the Ambassador of Portugal had informed him of a large number of ancient Ceylonese writings presently in Portugal and for which arrangements are being made to bring them to this country.
The Committee Report on Repatriation of Cultural Properties is chaired by Dr. Nanda Wickremasinghe, Director of the Department of National Museums with Prof. P.L. Premathilake, Prof. Anura Manatunge, former Archaeology Department Director General Dr. Roland Silva, present Director General Dr. Senerath Dissanayake, Dr. Saroja Wettasinghe of the Department of Archives and Sarath Atulugamage, Director (Sacred Area Development) as members of the committee.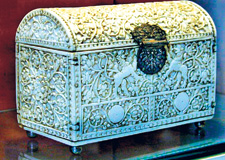 An ivory casket from Sri Lanka (about AD 1700). Pic. courtesy British Museum
Dr. P. Ramanujam, Secretary of the Ministry of Urban Development and Sacred Area Development said that the committee was appointed following Cabinet approval in 2009 and is acting on the recommendations made by the Buddha Sasana Commission in 2002.
"One of the recommendations of the Buddha Sasana Commission was to try to get back artefacts and cultural monuments taken away from the country during the colonial period. It is a difficult task as most of them belong to private collectors. This time we are especially appealing to private collectors directly or through our embassies," he said.
Mr. Ramanujam added that the Sacred Area Development, Religious Affairs, Foreign Affairs and Cultural and Heritage Ministries were working together with assistance from the United Nations Educational Scientific and Cultural Organization (UNESCO).