While the Government has moved rapidly to resettle thousands of persons who were displaced after fleeing the war zones in the north last May, the process of settling down to a life of routine which had been disrupted for many months is proving to be an uphill task for the war affected.
While the physical signs of the heavy fighting that took place in the north may be slowly disappearing, the psychological effects of it remain deeply embedded in the minds of the people.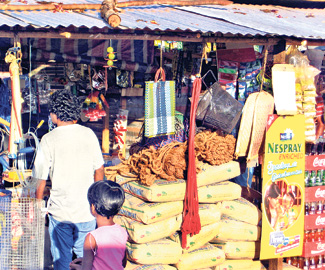 A shop selling building material doing good business
Imanpulle Vanniyasingham (41), has gone back to his village in Kanakarayankulam area north of Vavuniya where he worked as a farmer and was the president of the rural development council of the area before being forced to head north into Mullaitivu at the behest of the LTTE as fighting intensified between Government troops and the LTTE. He lost five members of his family including his parents and two brothers and says he cannot make up his mind to go back to the farms that he once worked on with the support of his family members.
"My wife has become mentally unstable. She lost seven members of her family in the fighting and is on medication. I too have to take a tablet every night to fall asleep, otherwise I have nightmares," he said.
Vanniyasingham feels his life no longer has any purpose and has lost his stamina to work.
"Our two year old son is living with relatives because both of us are not mentality fit enough to look after him," he said. Vavuniya North Assistant Government Agent (AGA) K.Paranthaman who himself lost his niece in the fighting ensures the newly resettled people get their dry rations, Government allowances and building materials so that they can get back to a life of normalcy once again.
"I knew Vanniyasingham before these tragedies befell him. He was a very good farmer but now he is not motivated to work," the AGA said. "We were caught between two sides and neither of them cared about what happened to us," Vanniyasingham said. When asked what he plans to do now to make a living, Vanniyasingham said he would like to start a boutique.
There are many stories like his, one story no less tragic than the other but having braved worse odds before escaping the clutches of the LTTE, some are trying to get on with their lives as best as they can. Many have rebuilt their homes using the tin sheets and cadjan provided by the Government and are sending their children back to school.
L.Kanthan who works as a teacher in the area said that there is a dire need for counselling for the people affected by the war. "Many cannot erase from their minds the violence they have experienced. They don't feel a change in their situation despite the end of hostilities," he said.
AGA Paranthaman is optimistic things will improve gradually with the Government decision to allow more NGOs to work with the resettled people.
"Out of the 20 Grama Niladhari divisions in Vavuniya North, nine have been cleared of mines and farming land is being cleared to get the people work," he said.Government assistance comes by way of the Emergency Northern Recovery Project (ENREP) under which a member of each house can earn Rs. 500 per day, four days a week, for work guaranteed to them by the State," he explained.
While there are positive signs that life is improving for the people and while their material needs are being provided for, authorities in the country will need to do much more to help the war affected to overcome their psychological problems.
IDPs going back to their homes in stages, says Resettlement Ministry
More than 170,000 Internally Displaced Persons (IDPs) have gone back to their original homes under the resettlement programme in the Northern and Eastern provinces, the Resettlement Ministry said.
"Some IDPs were resettled last Sunday and more will be resettled in the coming weeks," Ministry Secretary U.L.M. Haaldeen said.
He said the ministry had plans to resettle around 865 people at Oddusuddan in the Mullaitivu District.
Another official said that whatever delays in the resettlement process was largely due to the demining activities in the areas earmarked for resettlement.
Meanwhile, United Nations High Commission for Refugees (UNHCR) official said the UN would continue to provide returnees with non-food items and shelter.
"The UNHCR in coordination with other agencies will prioritize supporting the returnees, re-establishing their lives and livelihoods as swiftly and as safely as possible and with full dignity," UNHCR Information Officer Sulakshani Perera said.