There was a perception very recently, that the Sri Lankan people had no sense of gratitude. That perception has thankfully been put to rest now.
There was a time when an all pervasive fear prevailed on expressing anything about Velupillai Prabhakaran. However in a statement which appeared in all national newspapers of this country including the Tamil language newspapers, I requested Prabhakaran to cease the sacrifice of the lives of innocent Sinhala Tamil and Muslim people and to surrender. If he would do that, the President would grant him a pardon and may also intercede as best as he could to put aside the penalties that India had ordained for him.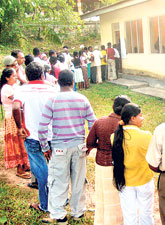 People queue up cast their votes at the recently concluded Presidential elections Pic by Krishan Jeevawa Jayaruk
This did not happen and Prabhakaran eventually lost his able fighters, suicide cadres, and strategists. He had to bury his sophisticated firearms underground. Using the innocent populace as a human shield Prabhakaran expected to gain sympathy, but these people who constituted the shield broke rank and fled towards the Sri Lankan army regardless of their safety. Our troops received them with kindness, finding them temporary accommodation in the camps set up for this purpose.
The next allegation was that the displaced persons were not looked after, when in fact their daily food requirements were sent to the most inaccessible of places. Those displaced persons did not come to us because of our needs, but to escape from the terrorists. Many Tamils in Colombo continued to live in fear even after paying 'protection money' to the terrorists.
The Tamils both rich and poor who suffered the most due to the terrorists, breathed easier and even forgot the old racial wounds. Those inclined to terrorism and who lived abroad gave up their ideas and their hopes. It is clear now that they have been let down by giving false promises that cannot be realized. Some such promises were allegedly given by the Opposition. If this were indeed so, these would only have stoked the dying embers of racial disharmony.
The majority of the Sri Lankan populace have put aside the divisions of caste, creed and religion and voted wisely in returning President Rajapaksa for a second term. Let those who have not done so now join hands to rebuild the nation with dedication. Let us eschew the temptation of bribery and corruption and act with justice and reason. The 'Pansiya Panas Jathaka' or book of 550 rebirths is one of the best books on Buddhist teaching. This book has been printed at the Gangaramaya from 1890 onwards. It has many lessons of wisdom and strategy.
The first story in the book is the 'Apannaka Jathakaya' and the advice given there is that 'Those who act without knowing what has to be done and what should not be done end up being destroyed and those who do not do so achieve only success'. When General Fonseka visited the Gangaramaya to be blessed, this tale was related to him and a copy of the book given. I am happy that so many of our countrymen have knowingly or unknowingly heeded this advice.
First the family, then the village and third one's faith and one's country have to be protected. That must form part of our everyday wisdom. May strength be given to the clergy of all religious denominations to make our people good citizens. There are the good and the bad among us as was at the time of Lord Buddha.
What has to be said to those who govern, whether it is the President, the Ministers, or the public servants, let us say it openly and directly. Let the newspapers set aside a page for the views of the people. Let those who govern us read and take heed and take what action is called for. People who are grateful have re-elected President Rajapaksa who saved the nation. To those who did not do so let the same kindness and good fortune be extended.
May all have good health, be free of sorrow and pain, and be able to live without fear. May good fortune make our country an example to the world. May everyone be prosperous and successful.