Defeated presidential candidate Gen. (retd.) Sarath Fonseka reiterated yesterday that he faced a threat of assassination and has prepared an affidavit and kept it in the safe custody of relevant people to be made public if he comes to any harm.
"I have written an affidavit with details of persons who want to harm me and given it to the necessary persons and the names of those who are responsible for my death will be made public if I come to any harm," he told reporters at a news briefing at his residence on Queen's Road last evening.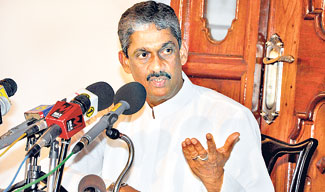 Gen. Fonseka at yesterday's news conference
The former Army Commander said his security had been reduced from 90 to four policemen who included three constables and one Inspector. "It is clear that this is a plan to assassinate me. My security is zero," he said.
He also said there was an attempt to stop him from engaging in any political work. "More than 20 retired army personnel who worked for me during the election have been arrested and my office has been sealed. Twenty three computers have been taken away as well as vehicles that were there," he said.
General (retd.) Fonseka charged that the Cinnamon Gardens police had failed to entertain a complaint that he wanted to lodge regarding the raid on his office at Rajakeeya Mawatha.
He said not only he but his wife, son-in-law and daughters have been barred from leaving the country. He said he would not seek asylum in another country but would stay here and work for the people who voted for him.
He added that many changes have been made in the Sri Lanka Army with officers who worked with him being removed from their posts while some have been sacked. "I heard that 13 army personnel including three majors general, two brigadiers, and four colonels have been sacked. Brigadier Duminda Keppetiwalana was arrested last night on charges that he was connected to the killing of Leader editor Lasantha Wickrematunga.
General Fonseka denied that there had been any attempt of a coup by him. "They are describing a democratic election campaign as an attempt at a coup," he said.
Meanwhile when the Sunday Times contacted Military spokesman Udaya Nanayakkara he denied that any army officials had been sacked.