The Puttalam-Mannar highway was opened after 22 years bringing new life to the region. The A 32 highway was closed in 1988 by security forces as they could not provide security to the road users due to the conflict.
Those most benefited by the reopening of this highway after over two decades, are the villagers who were chased away by the LTTE from the Mannar area. The first to use the roadway after the closure were the nearly 1000 people transported to their original homes by around 150 buses last Sunday.The reopening of the road was marked by the presence of Northern Province Governor Maj. Gen. P A Chandrasiri.
However due to security reasons the road will be kept open only from 8 a.m. to 2 p.m. only according to Lt Commander Jayantha Perera who said the reason was to provide maximum quietness for the animals in the nearby Wilpattu national park.
The distance from Puttalam to Mannar on the A32 road is 100 kms less than the distance from Puttalam to Mannar using the road via Anuradhapura and Medawachchiya. However due to non-maintenance of the road for over two decades it is in poor condition but the authorities said that it would be repaired soon at a cost of Rs. 1,100 million.
There are Navy camps providing security to road users who are subjected to a check at Eluwankulam after passing the Wanathavillu area. The highway runs crossing the Kalaoya, Modaragam aru and Kal aru.The opening of the road will be of immense benefit to the country as transport of market produce will be made easier and quicker.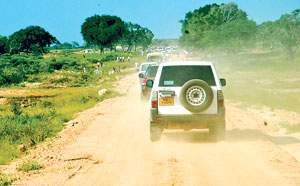 Above: Vehicles on the newly opened road. Below: Elephants in the Wilpattu wild life park seen from the road which skirts the sanctuary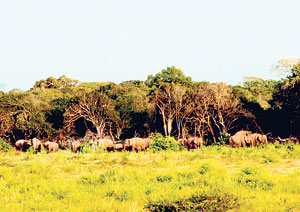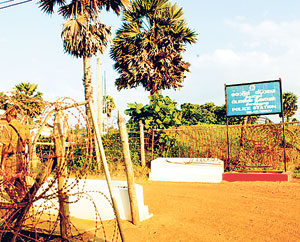 The road passing the Silavaturai police station