While both foreign and local election monitors gave virtually a clean certificate on the conduct of Tuesday's presidential poll, opposition members expressed their reservations about the "free and fair" nature of the poll.
Observers from the Association of Asian Election Authority (AAEA) said they believed the election was "largely free and fair". "We observed that people were able to cast their vote free of threats or intimidation," the 55-member delegation's spokesman Pan Wei Ta said.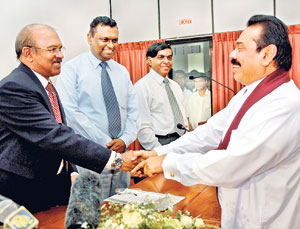 Congratulations: Election Commissioner Dayananda Dissanayake with President Rajapaksa at the Elections Secretariat after results were announed on Wednesday. Pic by Gemunu Wellage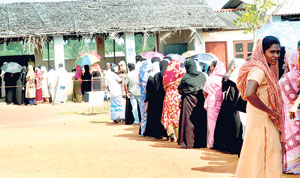 Queueing up to vote at a booth in Puttalam. Pic by Hiran Priyankara Jayasinghe
He said the AAEA group saw agents of candidates being allowed to accompany the ballot boxes from polling stations to counting centres and felt that no irregularities worth mentioning took place.
Elections Commissioner Dayananda Dissanayake had acted with objectivity and impartiality in conducting Tuesday's poll, Dr. Ta said.
The local monitoring group PAFFREL also said the presidential election took place in an essentially peaceful and calm environment. It said that the monitors received 71 complaints of which 35 were confirmed and only four were serious.
However PAFFREL condemned the use of the state media on election day in favour of one candidate as a violation of the election laws. The group was referring to state media reports which claimed that opposition common candidate General Sarath Fonseka was not a registered voter and therefore he could be disqualified or his election could be challenged in court.
"This would have caused consternation and confusion in the minds of those who had not yet voted. It highlights the importance of full compliance with the election laws and observance of the voter registration process by all citizens," the organisation said in a statement.
While the monitors declared the election results as largely free and fair, Gen. Fonseka said he would not accept the results saying that they had been "distorted". Alleging incidence of large-scale irregularities, he vowed to challenge the outcome in the Supreme Court.
JVP Leader Somawansa Amarasinghe, expressing similar sentiments, said his party would not accept the overall results of the presidential election because the final results were manipulated using computer technology.
SLFP (M) leader Mangala Samaraweera alleged that the election results had been distorted in a subtle manner. It was not as obvious as stuffing of ballot boxes, he said.
However SLFP General Secretary and Minister Maithripala Sirisena said that allegations of the poll being rigged was an absurd one." Is the opposition saying that 1.8 million votes were rigged?" he asked
"President Mahinda Rajapaksa has secured more votes than any other presidential candidate had done in any election in the country. The two main reasons that made this victory possible are the defeat of the LTTE after 30 years and the launching of massive development programmes," Mr. Sirisena said.
NFF leader Wimal Weerawansa said people had shown that they were really patriotic by voting for the President and that they would not fall for conspiracies hatched by the west and its local agents.
"By voting for the President, people have clearly demonstrated that it is they who decide who will run this country and not western forces or their agents here," he said.