Raid from the roof
CID detectives turned up at the Rajakeeya Mawatha election office of retired General Sarath Fonseka on Friday evening accompanied by commandos of the Police Special Task Force (STF).
When they tried to enter the campaign office, they found the door locked from inside. One of the CID officers noted that ceiling fans were working and asked help from a commando. He climbed the roof, entered the office and had it open.
The detectives searched the office. An STF officer says he found a motorcycle without number plates. Six retired Army officers and nine retired soldiers were arrested. They seized CDs, CPUs of computers and documents too.
Pleas by a lawyer present at the scene were of no help.
The sorry fate of a hero
The one time war hero, former Army Commander and retired Chief of Defence Staff, General Sarath Fonseka, now has only four policemen for his security. They are from the Ministerial Security Division (MSD). This is in addition to four soldiers, the entitlement to all retired Commanders.
All other Army security provided to him has been withdrawn together with bullet proof vehicles. Incensed by the move, the Janatha Vimukthi Peramuna (JVP) has assigned 20 of its active cadres to provide security for Gen. Fonseka. They take turns guarding his rented residence off Queen's Road. There is also a group of retired soldiers.
That is the fate of a man once so powerful. There was very little he could not do, both within the military and outside it.
The oath call
The lady staffer dealing with matters legal at the Presidential Secretariat received an unusual call last Tuesday, the day of the Presidential poll.
The caller, a staffer in the Attorney General's Department, had wanted to know whether retired General Sarath Fonseka could take his oaths, after he won, on Wednesday. The lady politely told the caller "why don't you wait. The polls are not yet over."
Journalist on firing line
`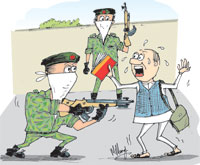 An Indian journalist now in Sri Lanka to cover Tuesday's polls was in for a rude shock. He was walking towards Gen. (retd.) Fonseka's rented residence off Queen's Road when he saw an STF commando. The commando was in fatigues and wore a balaclava to cover his face. Only his eyes could be seen.
The journalist thought that would make a good picture back home. He aimed his camera to take a shot. The commando aimed his gun and shouted "stop taking pictures or I will shoot you."
At the Queen's Road residence, when a news conference began, retired Gen. Fonseka faced a barrage of questions. The Opposition's 'common candidate' said he was under siege. One of the foreign journalists remarked, "I have not seen any guards." An angry Gen. Fonseka replied, "you may have been dozing off when you came here."
Karin kicked out
Swiss Public Radio journalist Karin Wagner was one of more than 100 foreign journalists who came to Sri Lanka to cover Tuesday's Presidential Election. On Thursday, she asked a question from a senior Cabinet Minister at a news conference. She wanted to know where Presidential advisor Basil Rajapaksa was.
"He is tired and asleep now," responded the Minister. The next question was her undoing. "Didn't he collude with the Commissioner of Elections to manipulate the results?" she asked. The Minister was furious and hit back at her. The next thing to happen was the cancellation of her visa. Immigration chief P.B. Abeyakoon, said she was put on an outbound flight from Colombo on Friday night.
MR for MR
Traditionally, the Catholic Church while speaking out for justice, equality and free and fair election, does not get involved in party politics. In line with this tradition, the Catholic Bishops' Conference of Sri Lanka issued a statement before the poll, calling for a free and fair election, democracy, transparency and measures to curb corruption - a statement which some observers interpreted as being more in favour of Gen. Fonseka's policy.
But during the campaign, Colombo's new Archbishop Malcolm Ranjith on his own made several statements directly or indirectly supporting the President.
Soon after the election results were officially announced, the Archbishop came on State TV to warmly congratulate the President and call on all people, including opposition parties, to forget their party politics or policies and support the President.
He did this even before any of the four leading Mahanayake Theras made any statements.
Mangala offers the other cheek
Among the rumours doing the rounds just the day after the polls is one about SLFP (M) leader Mangala Samarweera being slapped by the defeated Opposition Presidential candidate Gen. Fonseka.
When reporters met Mr.Samara-weera, they were keen to find out the truth. "General Fonseka will need a very long hand to have slapped me because I was in Matara on the day that he is supposed to have slapped me," an amused Mr. Samaraweera said.
He also told some media photographers that if they wanted they were free to scrutinise his face to see if either side had any tell-tale finger marks caused by the alleged slap he had got.
Strangers at the top
Eyebrows were raised when a politico, a toughie once in the Opposition, turned up at a top level security conference dealing with election-related matters. He sat through the meeting telling the top brass a few things to follow up.
Two DIGs in trouble
Some top cops suspected of playing politics during Tuesday's Presidential election are in for trouble.
They are to be moved out of positions they now hold to lesser important ones. This includes at least two DIGs, according to Police sources.
Threat to TV station
At a top level discussion on Friday night, it was decided to shut down a leading television network that supported Gen. (retd.) Fonseka.
The Telecommunication Regulatory Commission was directed to inform the network that its licence had been cancelled.
However, there were second thoughts on the matter. It was decided not to go ahead with the move. Insiders say that the letter withdrawing the licence had been issued in the meanwhile. Will they now recall the TRC order, remains the question.