Opposition Leader Ranil Wickremesinghe's vision for the future of Sri Lanka contained in a booklet to be released to the public on Monday embodies the creation of a post of Executive Prime Minister answerable to Parliament and the judiciary and a scaled-down presidency.
Mr.Wickremesinghe told reporters that what the country needs is a system that provides for the future of its citizens and not for the future of politicians only.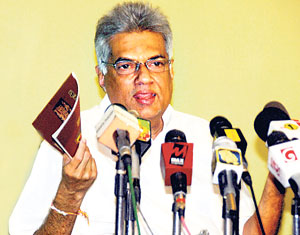 Ranil Wickremesinghe announcing the release of his book at a news conference at Cambridge Place yesterday.
The booklet titled, 'Future challenges', will be released to the public with the intention of initiating a public debate. "I want to create a public debate on the issues I have raised in the post-war context and listen to what others have to say about them. We need to move away from divisive politics that the country has been plagued with for so many years," he said.
The Opposition Leader advocates the holding of Parliamentary, Provincial Council and Local Government elections on the same day and the terms of office of those elected to be limited to five years. Mr.Wickremesinghe said this was meant to stop waste of public funds as well as resources by holding polls at different times.
He also said there was a need to put a stop to rampant corruption that exists today and Sri Lanka must start by ratifying the UN Convention against corruption and use the example of a country that has tackled the problem effectively and seek its assistance to deal with the problem here.
He also spelt out plans to raise the living standards of the people by about 50 per cent, move towards a self sufficient economy, explore new avenues for development as well as find quick relief to the people within two years.
"Many countries that were lagging behind Sri Lanka have moved far ahead of us. We only have the garment industry, while other countries have diversified to various other industries. We need to do that as well," the Opposition Leader said.
He also said radical changes needed to be made in the education system and a ten year plan would be put into action with the aim of creating the best education system in the whole of Asia. The plan included making education compulsory from Grade 1 to 11, while taking steps to give better training to teachers.