Fisherfolk and residents in Mundel say that the development project of the Mundel lagoon estimated to have cost around Rs. 7.3 million and carried out by the Wayamba Provincial Council's fisheries department, has not served its purpose. The aim was to preserve the bio-diversity of the region, to improve prawn culture and to restore lost environmental values.
It was started in 2007 and by now questions are being asked as to how the allotted monies amounting to Rs. 7,290,000 were utilised.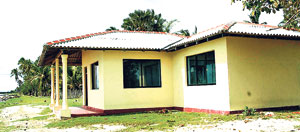 The building not put to any use.
A building which was meant to serve as an office from which supervision of the development work in the lagoon was to be monitored has not been put to use. The cost of putting up the building was said to be Rs.652,818.
Notice boards relating to the development project, for which over Rs. 100,000 has been reportedly spent, has for the last two years been lying idle, placed against the wall of a building.
However, the 118 nets and 18 fishing boats provided to the fishermen are being made good use of.
Commenting on the state of affairs, Sunil Roshan, St. Sebastian's co-op president said that all is not well with the project with the transfer of ministers affecting it as no investigations to probe any irregularities, if any, in the project are being carried out.
When questioned on the matter, Victor Anthony an ex-PC minister said this project is one of many that he undertook. However, he said 24 water carrying sources from the lagoon have been diverted by prawn cultivators for their own use during the last few years. He said the current minister in charge of the project has to put it to right.
Righting the wrongs and punishing the culprits is a matter for him, he said. When asked about the present situation the new fisheries minister Arundina Fernando said an inquiry is now on and its results would be known soon.