Internally displaced people will be allowed free movement from December 1, it was officially announced yesterday.
The announcement was made to them by Senior Presidential Advisor Basil Rajapaksa, when he visited Menik Farm yesterday. This thousand-acre farm was the site of the largest camp where some 130,000 IDPs now remain. Since the military defeat of Tiger guerrillas, more than 300,000 refugees were interned in this and other camps under heavy military security.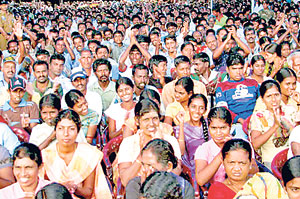 IDPs hearing the good news
Mr. Rajapaksa's announcement drew strong criticism from opposition groups in Colombo. "This is a political stunt in view of the upcoming elections," UNP General Secretary Tissa Attanayake said. He said the displaced people were being sent out without proper arrangements being made for their welfare.
JVP frontliner Vijitha Herath said, "It was obvious the Rajapaksa government was making the Menik Farm an open camp in view of the upcoming elections. This should have been done many months ago. This is being done purely to gain votes. Without proper arrangements, the displaced people could become security threats or be abducted."
Vavuniya's Government Agent P.S.M. Charles said they were yet to work out plans to operate an open camp. "We were at the beginning a bit reluctant to give them the freedom to leave the camps as most people want to settle down in Vavuniya. We have decided that the 25,000 rupee grant and the rehabilitation and rebuilding grant will be given only to those who settle down in their original villages especially those from Kilinochchi and Mullaitivu", she said.
She said LTTE suspects in the camps would be handed over for rehabilitation. Mullaitivu's Government Agent Emelda Sukumar said she believed the opening of the camps would make the situation worse with displaced people trying to settle down in town areas rather than going to their war-ravaged villages, which were lacking in basic infrastructure facilities.
"As a result of this, original villages will be neglected. We are telling them to return to their permanent residential areas," she said. Killinochchi's Government Agent R. Ketheeswaran said they were in need of transport and other facilities for those coming out of the camps.
"Roads should be improved for travel purposes with more buses," she said. "At present, those coming from camps too are in temporary shelters mostly in Poonakary division."
An official attached to a UN agency based in Jaffna said that about 66,000 people from 23,000 families were now in Jaffna. Most of them from the high security zones in Jaffna or Killinochchi and Mullaitivu.