Sinhala weekly Lanka editor Chandana Sirimalwatte has been directed to call over at the Police Special Investigation Unit at 2 pm tomorrow in connection with a story published in this week's issue of the newspaper.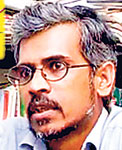 Lanka editor Chandana Sirimalwatte
Mr. Sirimalwatte said he got this directive on the telephone from a person who identified himself as Inspector Ranjan.
The story related to an alleged plot to assassinate former Chief of Defence Staff General Sarath Fonseka, who is likely to be the common opposition candidate for the Presidential Election.
This is the second time in a month that the editor of the pro-JVP newspaper has been summoned by police in connection with reports appearing in the newspaper.
Police spokesperson I. M. Karunaratne said his office had not been informed of this matter and therefore he did not wish to comment.