The veterinary surgeon who was accused of supporting the main culprits in the Balangoda baby elephant abduction case was given bail by the Balangoda Magistrate.
Calling the case last Thursday the Magistrate also confiscated the accused's passport.
The vet surgeon was also ordered to hand over his mobile phone to the Wildlife officers for further investigation.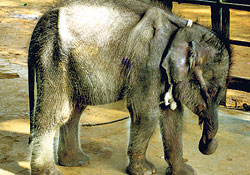 The unfortunate baby elephant
This baby elephant was found last August by a team led by Upali Padmasiri, head of the Wildlife Department's flying squad. The calf was kept at an estate belong to a relative of the main suspect, at Bagewatta in Balangoda.
The calf was only about three months old and was very weak at the time it was rescued. The calf later died at the Elephant Transit Home.
When the case was heard on November 12 the Balangoda Magistrate had sentenced the main accused to three year's imprisonment in addition to fining him Rs.250,000 while the other three accused were sentenced to two years rigorous imprisonment and fined Rs.150,000 each.
The veterinary surgeon was not present on courts on that day, instead sending a medical certificate through another person.