Lack of employment has led many young men and women to fall victim to financial fraudsters. Two such incidents have been reported from Matara town within a month.
Last week the Matara Police special unit on corruption arrested a man involved in running an institute by the name of 'Human Resources and Education Development' which has collected large sums of money from many applicants in 19 districts.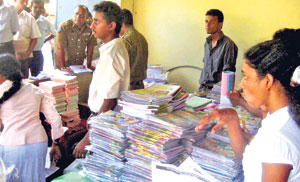 The educational publications and CDs which the applicants were expected to sell
He had placed an ad in the newspapers for persons interested in being project officers in agricultural, educational, small business, self-employment, management and social service projects, to apply with a Rs. 250 money order.
Another advertisement was placed by the same person for the posts of zonal directors, deputy directors, district managers, provincial managers, and computer operators for a salary for more than Rs. 20,000. The advertisement also has stated that food allowance, travel allowance, phone facilities, pension and insurance will be provided to those who have been chosen for these posts.
Applicants from Anuradhapura, Trincomalee, Kalutara, Kandy, Hambantota, Ratnapura, Gampaha, Polonnaruwa, Moneragala, Ampara, Matale, Puttalam, Kegalle, Colombo and Nuwara Eliya had sent money orders for Rs. 250 to the institute with their applications.
The institute has called the applicants from Matara district for an interview at the YMBA building in Gabada Street and asked each of them to pay Rs. 1500. The head of the institute had then said that the applicants should go from house to house and sell educational books and CDs for a 20 percent commission.
By now the crowd which was enraged had taken the suspect to the Matara Police. It was revealed that the suspect is a resident of Yakalla road, Kekirawa. He was remanded till November 27 by Matara Chief Magistrate M.K.A.Pieris.
Meanwhile two men who were involved in an alleged fraud were arrested after they had placed an advertisement offering jobs at the South Korean factory presently under construction in Hambantota, requesting applicants to obtain a medical certificate from a private medical institution in Police Road, Matara. A number of applicants have paid Rs. 600 for the medical certificate but no receipts have been issued.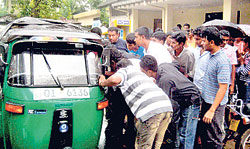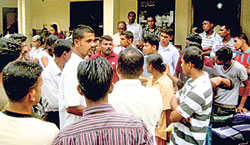 The crowd outside the medical institution from which the medical certificate had to be obtained. Top: The suspect being taken to the police in a three-wheeler .