Living in some one's shadow and yet contributing tellingly to a cause is generally the silent contributors' role in society.
Throughout history there may have been millions of such contributors, but in a cricketing sense the first one that comes to my mind is that Australian batsman Arthur Morris who even outscored the legendary Don Bradman during the 1948 season.
Morris broke in to the scene in the previous season (1946-47) scoring three consecutive hundreds. But, today very few people have even heard who Arthur Morris was.

In Sri Lanka first among them was that prolific left hander Asanka Gurusinha, who had to live in the shadows of some one throughout his cricketing career. At his alma-mater Nalanda College it was Roshan Mahanama the 'star' and after elevating himself to the national side, life was under the shadows of Arjuna Ranatunga and Aravinda de Silva.

Do you know that till lately Asanka was only second to Aravinda de Silva in the Lankan run machine and was one of the main cogs in the transformation of Lankan cricketing fortunes! His centuries came in the form of the following: 1. 116 not out vs Pakistan at the P. Saravanamuttu Stadium 1986, 2. 119 vs New Zealand at Hamilton in 1991, 3. 102 vs New Zealand at Hamilton in 1991, 4. 137 vs Australia at the SSC in 1992, 5. 128 vs Zimbabwe at Harare in 1994, 6. 127 vs New Zealand in Dunedin, in 1995, 7. 143 vs Australia in Melbourne in 1995. In fact out of the seven centuries 5 were scored overseas which included his highest against Australia in their own backyard.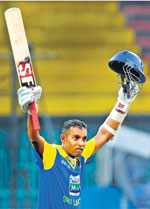 Thilan Samaraweera establishes himself.



Besides that, Gurusinha's two ODI centuries - 117 not out vs New Zealand in Sharjah, UAE in 1994 and 108 also against New Zealand in Auckland, New Zealand in 1995 were also scored outside of Sri Lanka.

Before Gurusinha faded out of Sri Lanka cricket in the aftermath of their World Cup win he had a respectable average of 38.92 in Test Cricket and 28.27 in the limited overs version. Ironically Asanka was also moulded essentially a Test player by the pundits at that time. Nevertheless he always had his place reserved in the ODI side as the peers of that era knew the balance in the team was more important than blind experimentation.

However their faith in the No3 left hander paid during the 1996 World cup.

In the first game against Zimbabwe (which was a very good opposition at that time) Sri Lanka were reeling at 2 for 23 with both openers Jayasuriya and Kaluwitharana back in the deck Gurusinha (87) added 172 runs for the 3rd wicket with Aravinda de Silva (91) to see the Lankans through. In the second game Gurusinha who made 25 while adding 76 runs for the 2nd wicket with Sanath Jayasuriya (79) to give the early momentum to the Lankans who were chasing an formidable 271 scored by India in Delhi.

In the third game against the new comers Kenya, Gurusinha (84) added 183 runs for the 3rd wicket with Aravinda de Silva who made 145 thus helping the Lankans to post the then ODI record total of 398.
In the next game against England, Gurusinha (45 in 63 balls) was the fifth out at 198 chasing a score of 235 for 8. Mind you in this game he put on a 2nd wicket stand of 101 with Jayasuriya who score a swashbuckling knock of 82.

Gurusinha was out for 1 in the semi-final against India, but Sri Lanka went on to make 251 and beat India 120 for 8 in an incident packed game at the Eden Gardens but Gurusinha came back in the final. Like in the first match against Zimbabwe Sri Lanka were 2 for 23 with Jayasuriya and Kaluwitharana back in the dressing room. Gurusinha (65) and Aravinda de Silva (107 not out) added 125 runs for the 3rd wicket and steadied the Lankan ship thus paving the way for the lads from that tiny island nation to create history.

My argument is, all this was done by a man who was branded mostly as a Test batsman who first made his way into the side as a wicket-keeper.

Once you teleport yourself into the next millennium we saw the Lankans gradually losing that middle order stability since the demise of the Aravinda-Arjuna combination. However isn't it a fact that the solidity of Gurusinha at the top made the job of the more illustrious duo that much easier.

At present The Lankan batting especially in the shorter version of the game has seen a gaping hole in the middle. Now they lack that input from the likes of de Silva, Ranatunga, Tillekeratne or Mahanama.
In the Test arena Thilan Samaraweera now has established himself as Mr. Reliable. He is one of the few Sri Lankan batsmen who have managed to keep an average of more than fifty, after playing over fifty Tests. In Tests, a batsman averaging fifty is considered a very good batsman, if not the greatest. In 53 Tests, this Sri Lankan middle-order bat has over 3500 runs to his credit, with ten hundreds, including two double tons, and nineteen fifties. But, that also happened in his second coming. One slight hic-cup, while having a Test average of more than forty runs and Samaraweera was brushed off and almost forgotten till he forced his way back and kept scoring almost at every given opportunity.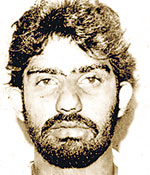 Asanka Gurusinha
Thilan always had to fight to stay alive. When he was given a chance to assist champion off Muralitharan as a relief operator Samaraweera kept on scoring runs and in huge quantities knowing well that he will not get his real worth as a bowler.

After scoring 103 runs in his very first Test innings he kept on the momentum till he failed in England in two tests. There the then selectors dumped Samaraweera for more than a year till he gradually got back into the side and on to his stride with a century against a battery of fast bowlers in the West Indies.
With the flagging fortunes in the shorter version of the game where Sri Lanka is lying seventh in the fortunes table and just about to face a Champions Trophy and a Cricket World Cup in their own territory within a few months, the selectors have finally laid their chips on Samaraweera to be the link man in the middle. However now that he has proved himself let there be no muddle. If he fails in a game or two have faith in him now that he is experienced enough to know his responsibility.

By living in the shadows of Sangakkara and Jayawardena, Thilan definitely has not got the acceptance that is due to him in the line-up. Nevertheless give him the responsibility, like Gurusinha he will deliver when it is needed the most.