Sports
---
Fitness boosts your skills

Last week I talked about coaching and achieving skill perfection in each aspect. A most forgotten and often neglected aspect is the demand of fitness which is what makes a better player today. A rugby player is exposed to the demands of the game on a regular basis. Rugby requires speed, strength, stamina, flexibility and much more. It is truly unique and with that respect requires a unique approach.
Given the importance I spoke to Mothilal Jayatilleka former Director of Physical Education of the University of Peradeniya and a person who has been involved in handling the physical training aspects of top rugby playing schools, clubs as well as the National team.

Rugby is a sport of high intensity and a stop start in nature, and involves a great deal of physical contact played over 80 minutes as explained by Jayatilleka. Rugby requires a high degree of force and power and involves physical contact.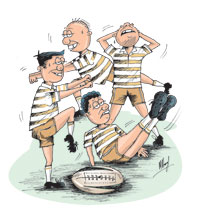 The question however is whether the population has been advised on the need to train to meet the challenge. Players are not accustomed to arrive at training session prepared to do what they are expected to do. To achieve what they need. Players whether they are at club level or school often arrive at training or coaching sessions full of energy drink, little or nothing to eat, little sleep and the stiffness present from the last session. They become frustrated with the lack of rugby fitness or lack of visible improvement. Similarly they may leave training without adequate eating, recovery and or relaxation. Should anybody be surprised with the result?

As most club players are working, the possibility is that they rush from their place of work unprepared. Schoolboys pop in very often having spent time elsewhere for extra classes. End result is that people may spend time in the gym or on treadmills but unable to get what they need to do to take their game to the next level. An example would be the battering the under twenty team got at the hands of Hong Kong after a comfortable win against Singapore.

Coaches as well as others involved in promoting the game want to see great tackles, bursting runs, cute offloads, dynamic rucks and great strength at mauls. In whatever capacity your interest is you want your players to perform. Yet there is little or no emphasis on being fit to deliver.

Given the high level of fatigue, it is important for action to promote recovery. If there is no recovery before the next session or next game the result will be less than expected. To recover to be fit you need to be proactive. It is important to develop an appropriate post game routine designed to promote recovery in all areas of fatigue.

It is important to have in place a strategy for optimizing recovery. The strategy should be to make it a routine or habit. Most of our day to day work is by habit. We carry out task without the need for great thought or effort. The morning ritual is done without much thinking. If we think of what we do each morning after we wake you will realize that most is done without the need for a great deal of thought or effort. It is important to use this characteristic to make positive changes in developing a post game routine. This needs to incorporate a number of strategies that can address the key types of fatigue brought out by a rugby game.

A rugby recovery programmme will therefore need to address fatigue elements.

Physiological Strategies require replacement of energy substrates and the removal of metabolic bi-products. This should involve a cool down and nutritional strategy, which promotes physiological recovery and provides for an intake of appropriate nutrients to refuel.

Neural Strategies will involve a number of aspects such as the replenishment of key neural transmitters, and can be facilitated by appropriate hydrotherapy and self massage strategies
Tissue Damage Strategies involves minimizing the levels of tissue damage and promote healing.
Psychological Strategies requires the athlete to distance themselves from the stresses and worries of the game. This form of recovery needs to incorporate methods by which the athlete can disengage from the game and engage in relaxation activity.

Elements of the Recovery include: The Cool Down, Post Game Nutrition, (something most forgotten as players leave a ground and head home for a meal may be an hour or two later) Hydrotherapy, Self massage, Ice and or cold baths.

Competition can produce high levels of psychological fatigue. It is important that the athlete is able to distance themselves from this as soon as possible after the game. A performance review is an ideal way of doing this

An important aspect often neglected is Relaxation In the evening following a game. It is important that the athlete is able to undertake relaxing activities. The choice of relaxation activity will likely be individual to the athlete, and they need to experiment to find which strategies are most effective.

It must therefore be understood that however sophisticated and carefully the planning is for the training programme it may not be optimally effective without adequate recovery. Players should be ready to train and train and train properly? What has to be looked at and the athlete constantly educated is on. A How to recover. B. Getting Hydrated. C. Eating right. D. Supplements.

* Vimal Perera is a former Rugby Referee, coach and Accredited Referees Evaluator IRB
|
E-mail
|
views[

1

]