Powered by a a timely knock of 98 by veteran Sanath Jayasuriya and a versatile and effective knock of 91 not out by fast improving left hander Thilina Kandamby, followed by a brilliant spell of bowling by Angelo Mathews, Sri Lanka powered their way into an imposing 139 run win in their precursor to Monday's final in their tri-nations triangular against India at the R. Premadasa Stadium yesterday.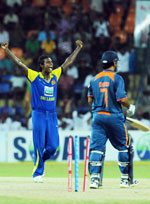 Angelo Mathews celebrates taking the wicket of Indian skipper Mahendra Singh Dhoni.
Pic by Sanka Vidanagama
In reply to Sri Lanka's match winning total of 307 for 6 in their allotted fifty overs India were all out for 168 in 37.2 overs with Mathews decapitating the giant neighbours with a haul of 6 for 20 in six overs.
The Indians chasing their six-runs-per-over looked always short. They lost openers Dinesh Karthik for 16 with the total on 32 and Tendulkar for 27 when the score was on 67. Time and again they looked to break free, but the Lankan seamers always kept them on a tight leash. It was under that pressure that India lost two further wickets, that of Yuvraj Singh and Suresh Raina in quick succession as India slumped to 108 for 4.

With Raina's wicket, it was the turn of young Angelo Mathews to prove what a useful all-rounder that he is developing to be. Then clean bowled 'the wall of India' - Rahul Dravid for 47, skipper M.S. Dhoni for 8 and then once again teamed up his skipper Sangakkara to get rid of dangerous Yusuf Pathan for 1. Mathews grabbed his maiden fiver when he once again broke the defense of Harbhajan Singh for 4.


Jayasuriya who was looking for a big one for some time settled in after he lost his opening partner Dilshan and built the Lankan innings around him till the mid overs. Batting with a lot of resolute the elder statesman of World Cricket showed that he still has not lost his magic by making his runs in just seventy nine balls with thirteen hits to the boundary.
Jayasuriya was adjudged leg before by his former team mate - umpire Kumara Dharmasena of a Nehra delivery that pitched outside off stump and moved slightly towards the off stump. He also had a steady 70 run stand for the 4th wicket with young Angelo Mathews who also made his departure soon after Jayasuriya. Jayasuriya got this score in his eighth innings since he made 107 against India in Dambulla in January this year. This was the sixth occasion that Jayasuriya made his departure in the nervy nineties in his 437th ODI innings.
Poor turn out at India-Lanka ODI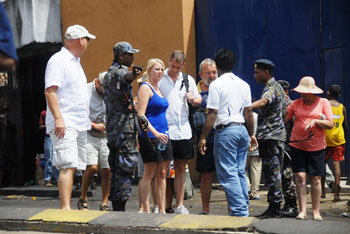 What's all this about? Foreign spectators who turned out to watch the Sri Lanka-India ODI at the R. Premadasa Stadium seem to be objecting to the stringent searches that they were subjected to by security personnel. Pic by Sanka Vidanagama
Surprisingly only 25 percent of tickets were sold at the key Sri Lanka - India ODI at the R. Premadasa Stadium yesterday.

Strict security prevailed at the approaches to the venue and spectators had to pass several barricades before entering the grounds. They were even body searched for cigarettes, alcohol and match boxes.
Very little control prevailed at the Sri Lanka vs Pakistan Twenty/20 game a fortnight ago and spectators were baton charged at by the Police at that game, this maybe one of the reasons for spectators to skip the game.

However the SLC Tournament Committee later decided to accommodate the estimated 12,500 spectators in the 18,000 capacity area and also brought down the prices of tickets from Rs. 200 to Rs. 100 but still the crowd kept away.
The only Indian bowler who commanded respect was off spinner Harbhajan Singh who bowled his ten overs for only thirty seven runs with the scalp of the Lankan skipper Sangakkara.

After the departure of Mathews and Sangakkara the two young hopefuls - left hander Thilina Kandamby and Chamara Kapugedera played two very cultured innings thus engaging in a fine 83 runs stand for the 6th wicket till Kapugedera was run out for 36 runs off a R.P. Singh direct throw. The two youngsters batted complementing each other and were concerned in short runs rather than flashy big hits. So much so Kapugedera's knock contained only two hits to the fence. However at the other end Kandamby's knock contained 11 fours in 73 ball innings.

Earlier Sri Lanka won the initial battle of wits by calling correct with the coin and decided to bat. They were forced to make one change when the first match centurion Thilan Samaraweera who was rested with hamstring niggle. Once again the match management called in Chamara Kapugedera to occupy the now pivotal number six slot. India kept faith in their eleven who beat New Zealand on Friday.
Tournament wise this game had very little significance as both teams had already qualified for the Monday final at the expense of the Kiwis. The Lankan openers Tillelekaratne Dilshan and Sanath Jayasuriya started explosively as usual by scoring an impressive 40 runs in the first five overs. The bowler who was brought to sword the most was India's Friday hero Ashish Nehra who was taken off after an expensive 21 runs in two overs, in which the first was a nine delivery effort.

Sri Lanka lost their first wicket in the 46th minute of the game with the total on 57 when Dilshan was held behind by the Indian skipper Mahendra Singh Dhoni off the bowling of seamer Ishant Sharma for 23 which was made off 27 balls with four fours. Then another 35 run stand between Mahela Jayawardena and Jayasuriya saw the Lankan score sailing, but the departure of Jayawardena and skipper Sangakkara saw them losing the momentum with the Indian spinners Harbhajan Singh and Usuf Pathan took control of the slow and low wicket for a while.
Score Board
Sri Lanka innings (50 overs maximum)
TM Dilshan c †Dhoni b Sharma 23
(Dilshan tries to punch it on the up and gets a thick outside edge)
ST Jayasuriya lbw b Nehra 98
(Jayasuriya tries to work it across the line and it struck him on the pad).
DPMD Jayawardene st †Dhoni b Pathan 17
(Mahela attempts to flick. loses his balance and gets stumped)
KC Sangakkara*† lbw b Harbhajan Singh 05
(Sangakkara plays forward and the ball squeeze past the bat and hit on the pad)
AD Mathews st †Dhoni b Raina 19
(He charges down the track, but misses it completely. Dhoni does the rest)
SHT Kandamby not out 91
CK Kapugedera run out (Singh) 36
(Kapugedera runs short of his ground to a direct hit at the non-striker's end)
KMDN Kulasekara not out 03
Extras (lb 4, w 10, nb 1) 15
Total (6 wickets; 50 overs) 307
Fall of wickets1-57, 2-94, 3-102, 4-172, 5-176, 6-259
Bowling : A Nehra 9-0-62-1 (1nb, 4w), RP Singh 8-0-58-0 (1w), I Sharma 10-0-67-1(1w), Harbhajan Singh 10-1-37-1(2w), YK Pathan 7-0-45-1(1w), Yuvraj Singh 3-0-20-0 (1w) SK Raina 3-0-14-1

India innings (target: 308 runs from 50 overs)
KD Karthik c †Sangakkara b Thushara 16
(Karhik is late on the pull and gloves it down the leg side)
SR Tendulkar c Mendis b Kulasekara 27
(Tendulkar punched it straight to Mendis at mid-on)
R Dravid b Mathews 47
(Dravid went for the big off drive and was bowled)
Yuvraj Singh c †Sangakkara b Malinga 16
(Yuvrag was again caught at the crease, feet going no where)
SK Raina c †Sangakkara b Mathews 0 0
(Raina tries to run it down to third man but gets a thick edge)
MS Dhoni*† b Mathews 08
(Dhoni tried to force it through the off side and got a fatal inside edge)
YK Pathan c †Sangakkara b Mathews 01
(Pathan just stabbed at it and got a nick through to Sanga)
Harbhajan Singh b Mathews 04
(Harbhajan tries to play but it squeezes past the pad to the stumps)
RP Singh not out 19
A Nehra b Mathews 0 1
(Nehera pushes outside the line and misses it completely)
I Sharma c sub (WU Tharanga) b Mendis 13
(Sharma going for a big hit caught at long-on)
Extras (b 1, lb 1, w 14) 16
Total (all out; 37.2 overs; 174 mins) 168
Fall of wickets1-32, 2-67, 3-105, 4-108, 5-126, 6-129, 7-130, 8-135, 9-139, 10-168
Bowling: KMDN Kulasekara 8-1-35-1 (2w), T Thushara 6-0-34-1, SL Malinga 8-0-33-1(5w) ,TM Dilshan 2-0-17-0, AD Mathews 6-0-20-6, ST Jayasuriya 2-0-5-0, BAW Mendis 5.2-0-22-1 (1w)