Notwithstanding the final outcome of the Sri Lanka-New Zealand-India tri-series which would draw to a close tomorrow, it has given the two sub-continent neighbours and the Pacific Islanders a good insight of what is in store for them at the ICC Champions Trophy tournament which would get underway shortly.
As for the Lankans who are languishing in the bottom half of the fortunes tables in the ODI rankings this tri-series was a blessing not in disguise, but to learn as to how they are going to build their castle from this point onwards. The Sunday Times discussed matters with the former Lankan skipper Mahela Jayawardena.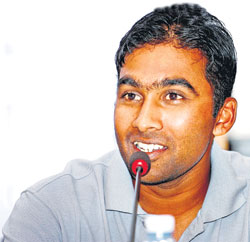 Mahela Jayawardena
Q: You have abdicated from your position as the captain of the Sri Lanka team and now that you are a more relaxed person with more positive approach towards the game, how do you see the team approaching the ICC Champions trophy in a national perspective?

A: It is going to be a tough challenge for us. We have to be honest with ourselves. We have not been consistent in one-day cricket. However, when it comes to a big tournament we have always picked-up, got together and done the job. It is very important that when we go to South Africa we get our mindset and our focus right. We've got three good teams in our group. We have to clear that stage first, get into the semi-finals and then the final. This is not a long drawn out tournament, so each and every game is very important to us, we have to analyze, plan accordingly and make sure that we get our game plan right and execute that on the given day.

Q: Since of late our top four are experienced enough and know what international pressure is, but our middle order had been wobbly and has failed to deliver the goods. Has this caused many down turns?

A: First we must be fair on the guys. We have not been giving them the opportunities in a consistent manner, the public have been very critical when they have failed and we have not given them a decent run and we have been introducing new faces, but with Thilan being introduced now to do a holding role to get the pressure off the rest of the batting and play their natural games. However the responsibility lies in the top four we face the most number of overs in an ODI, so we must ensure that one of us would bat through and go on till the 40-45 overs and get a big one so that others can bat around us, so it is not the responsibility of one, but it has to be done collectively. You cannot expect the middle order to perform day-in-day-out, but we also have make sure that we have a steady middle order to take us to winning totals, because we have a very decent bowling attack, where we can defend or win matches.

Q: Has the inclusion of Thilan taken a lot of pressure off the top four?

A: Yes, in the top order we have both Dilshan and Sanath and they have been given the license to go out there and play their natural game, we need good and explosive starts, and then my job and Kumar's (Sangakkara) job is to keep with that momentum, both of us are stroke players but we must stick on and play for long periods. Thilan comes in a situation like what happened in the first game against New Zealand, we take over the main role, take over the responsibility and try and bat through the inning and consolidate. In the middle we have Kapu (Kapugedera), Thilina and Angelo. As for Angelo he has been really good for us in the last six months where he has understood his role at No. 7. He is an aggressive batsman who gets runs quickly. So either Thilina Kandamby or Kapugedera will fit into that slot at number six. They are more aggressive batsmen and complement whoever is on the other side and get runs quickly. Their job will be to bat with the lower middle order. We have identified each and every individual and we have told them what kind of roles that they have to play in the line-up. Once they know what their role in the line up is they have to make plans for themselves. We cannot tell them how to bat, we can tell them about the situation and what is required, but what they have to do is to have a batting plan and execute it.

Q: Have the three new seamers settled into their respective roles and are you satisfied?

A: I think they have been very consistent. A lot of people were wondering if they were capable of taking that responsibility coming in after a bowler like Vaas. I feel both Thilina Thushara and Nuwan Kulasekera have done that. For instance Nuwan is Word's No 1 in the shorter version of the game. They have adjusted themselves. Initially it was not easy for them. They have done a lot of hard work for the last three to four years, learnt from bowlers of the caliber of Chaminda Vaas and now they are capable of taking that role and take us into the next generation. Thushara also has been very consistent with the ball and Lasith after his injury is bowling well, but we have to make sure that he would build himself into what we want him to be, because of his action he puts a lot of strain on himself so we have to manage him accordingly as few big tournaments are coming up within the next one-and-half years. The back-up bowlers also have also been doing well – Dhammika Prasad, Dilhara and obviously the two spinners complement each other.

Q: Do we need only a fine tuning of the set up?

A: In spite of how much we practice and how much we prepare, once we go to South Africa and in the match situations against the given oppositions, what matters is how we perform in that particular game. That is where the mental toughness and results of all that preparation comes into play. That is what we prepare for – this kind of big tournaments and this kind of big occasions.

Q: Will this also be a good yardstick for the World Cup that will follow in another few months time?

A: Definitely. I think we have to build the individuals and also build the teams in preparation for the World Cup that will follow soon without you knowing it will be at your doorstep. Besides that we also have asked a few youngsters to hang around as we prepare for the World Cup, try and see if these guys can come up with the required standards if we have to replace somebody.